The first year I moved to Madrid, I lived in the beautiful neighborhood of Chamberí, which up until today is still in my personal top three. I would spend the following 11 years enjoying the quieter, more familiar area of Barrio del Pilar (Distrito Fuencarral-El Pardo).
Nowadays, I'm where I feel most at home: in the countryside just outside the capital, in a house with a nice, large piece of land and nothing built around it or blocking my views over the "sierra". Of course, this isn't an option for most expats in Madrid (it wasn't for me either, during more than a decade) so in this article I'll focus on the more relevant "barrios de Madrid".
Where to live in Madrid downtown: hustle and bustle
Where to live in Madrid all depends on your preferences. There are many people who prefer the center for multiple reasons. The truth is that some of Madrid's best neighborhoods are located in the central area. Think of the wide variety of theaters, art galleries, museums and libraries, as well as a very active nightlife...
Neighborhoods like Malasaña, Gran Vía, Chueca or La Latina – with a huge array of leisure and entertainment venues, such as shops, stores, cafes and discos or bars – are considered as areas of great influx, but there are people who like this lifestyle and consider it a great option to live. In fact, most of the young expats such as Erasmus students or international interns mostly choose the central areas to live their experience abroad. Check out here which neighbourhoods we are talking about!
Then, as one of the best neighborhoods close to the center, I would highlight Chamberí, a very characterizing area of ​​Madrid. However, a downside to this neighborhood could be that it does not have a lot of sports facilities or green spaces, but recently the Parque del Canal, pretty much made up for this, after having been completely renovated.
Tetuán: multicultural and financial
Tetuán is basically made out of two areas: Bellas Vistas and Cuatro Caminos. It's one of the most diverse neighborhoods as far as architecture goes; you'll find a mix of anything between modern office buildings and even skyscrapers and almost ghetto-ish areas. However, close to Cuatro Caminos, there is also a very nice area that meets in the middle, popular with young families and professionals, with a great offer of shops and restaurants. Down point: green. The parks of Sahagún and Dehesa de la Villa (the latter isn't even officially part of Tetuán) are located on the border of the Tetuán. So there's not much green close. I must add though: both are great parks, especially Dehesa de la Villa.
Chamartín District, an interesting and quiet place
Connected to the north of Tetuán, is Chamartín, is one of the best districts of Madrid to live in and one of the most demanded areas. But as part business district, it's also the home to various large companies. The neighborhoods that belong to this district do not suffer from the bustle of others mentioned above and have places of great cultural appeal, such as the National Auditorium of Music or the Museum of Natural Sciences. It also has green areas such as the Berlin Park, as well as the Santiago Bernabéu Stadium.
Retiro: a neighborhood with history
Retiro is a magnificent area for walking and sports. Obviously, it has a very special and world famous park, which helps a good deal. It is considered one of the best neighborhoods in Madrid. The thing is, "best" in this case basically refers to the distinguished character it has earned during its long history. It definitely comes with a slightly different price tag than the previously discussed areas.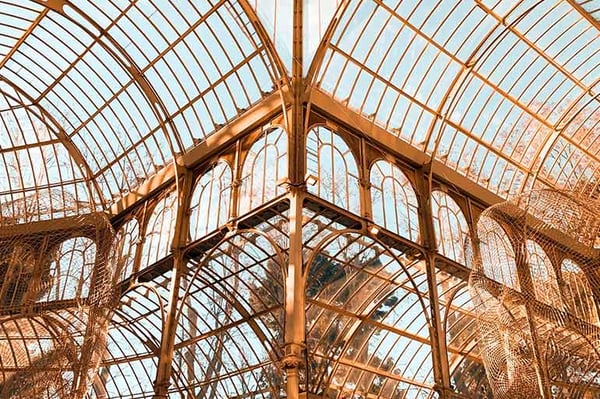 Salamanca neighborhood: very chic select atmosphere
Speaking of which, the Salamanca neighborhood is one of the most expensive and exclusive areas of the capital. The Retiro Park and the Paseo de la Castellana delimit it, where the coolest firms in Madrid and a wide selection of cultural alternatives are accommodated.
Latin District, not "La Latina"
Although located a bit further outside the city center, this is an area of ​​great interest, which has several neighborhoods as popular as Los Cármenes, Aluche, Lucero and Puerta del Ángel. All of them offer excellent communication, thanks to public transport (buses, metro and train). On the other side, there would be other neighborhoods equally famous, but somewhat further away like Cuatro Vientos, Campamento and Las Águilas.
This district should not be confused with the neighborhood called La Latina. Its name pays tribute to the best friend of Isabel La Católica and stands out for its especially quiet areas, without any noise, its green areas such as the mythical Casa de Campo and its great ease when looking for parking. In addition, family entertainment is always present with the Madrid Cable Car, the Amusement Park or the Zoo Aquarium as its main activities.
Moncloa-Aravaca: an ideal choice for families
This area is highly recommended for families and even has new construction promotions quite optimal when buying a home in Madrid with more than one bedroom. If you're in the market, check out this guide with advice on finding a flat or home in Spain.
Moncloa-Aravaca is certainly very interesting for families who have young children, because they can play freely and breathe fresh air within their wide variety of green areas. Its environment is perfect for walking or practicing any sport such as running or cycling.
One of these spaces is the famous Casa de Campo, although other relevant areas such as the Real Club Puerta de Hierro, the Sahagún Park or the Dehesa de la Villa Park can also be named. To tell the truth, it is a multifaceted place, not only interesting for families but also for students looking to live near Ciudad Universitaria.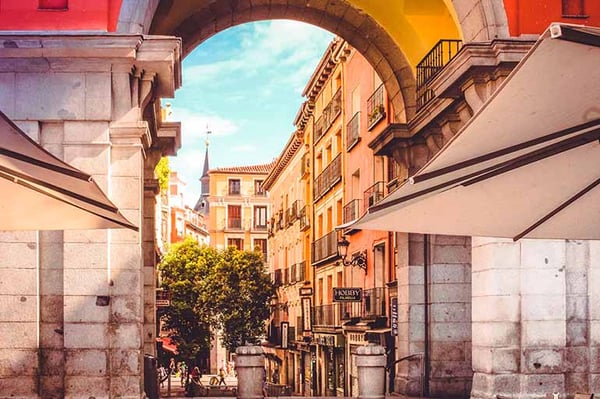 Where to live in Madrid that's just outside downtown
Some of the best districts to live in Madrid are new areas. These are located further away from the city centre, meaning you might need use of a car or vehicle, depending on your work commute, hobbies, etc.
Villa de Vallecas: modernity in its purest form
It may not seem like one of the best neighborhoods to live in Madrid because of its location, but from the Villa de Vallecas district you can easily reach the center through the suburban train. It stands out for being a modern area with great avenues, availability of services that make life easier for its neighbors and a great variety of green spaces.
Sanchinarro and Valdebebas: new areas in Hortaleza
Sanchinarro is a residential neighborhood that stands out for its tranquility and proximity to the airport. The truth is that it offers great communication to reach the rest of the city and is optimal for families thanks to its playgrounds and large avenues, perfect for walking, running or cycling.
Valdebebas, on the other hand, presents a recent urban growth with greater proximity to the airport. Felipe VI Park is one of its greatest attractions. In fact, it is one of the most popular areas of Madrid despite its lack of nearby services. Another district on the rise…
Fuencarral-El Pardo: the largest district
This district stands out from others for its scale, but isn't the most populated. This is due to its extensive green areas, such as the Monte de El Pardo and its scarce urbanized area (50%). The best known neighborhoods are: El Goloso, Mirasierra and Barrio del Pilar. This area is also very interesting for students of the Autonomous University of Madrid because of its location and the easy access to the center through public transport.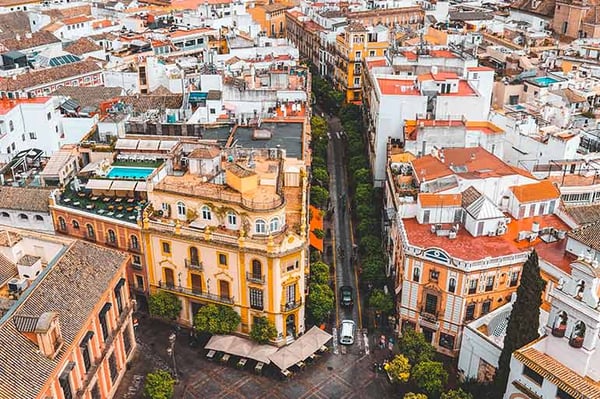 Neighbourhoods near the Madrid airport
Ciudad Lineal: great communication and leisure offers
Ciudad Lineal stands out for its quiet neighborhoods, with a wide variety of restaurants and excellent communication (suburban, subway and bus). Driving from the airport to Madrid, the most direct entrance is actually through this district, using Avenida de América.
Barajas: less inhabitants and greater serenity
Barajas does not have as many inhabitants as other districts, but it is one of the most representative of Madrid by the Adolfo Suárez airport. Alameda Osuna is one of its best-known neighborhoods, a residential area with hardly any hustle and more tranquility.
So, if you're wondering where to live in Madrid, in the end, it's all about the lifestyle you want. In the guide below, discover some important tips for buying a home in Spain: