Morning sickness during pregnancy is usually experienced during the first trimester (months 1-3). That being said, every woman is different and some experience little to no nausea, while others are vomiting throughout their entire 9 months of being pregnant. According to the National Institutes of Health, an estimated 70-80% of pregnant women experience morning sickness. Consider yourself very lucky if you fall into the minority.
In my case, I was not so lucky; I started to feel nauseous about 6 weeks into my pregnancy, and it lasted until month 4. Why they call it morning sickness, I have no idea, because it happened morning, noon, and night! I was totally unprepared for the queasiness and vomiting that came along with it, and I wish I had had someone to tell me first-hand what I could do about it. Luckily for you, I'm here to offer you some of my top tips for morning sickness.
As always, talk to your doctor as soon as you start feeling bad or are vomiting consistently. These tips are what have worked for myself and my friends and family members, but each person is different, and your doctor may be able to develop a personalized course of action for your case.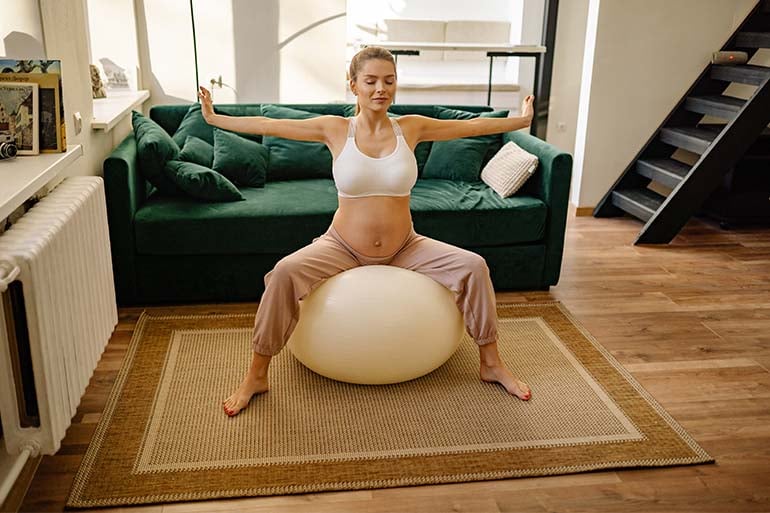 Causes of Morning Sickness during Pregnancy
Even though pregnancy is something that has been happening since the dawn of time, doctors still aren't 100% sure what causes morning sickness. Research published in the New York Times says that doctors have identified a "protein produced in large quantities by the placenta in early pregnancy and has a receptor in an area of the brain stem linked to vomiting and reduced food intake." There is also a hypothesis that "nausea and vomiting during pregnancy may be part of an evolutionary strategy to protect the developing fetuses by reducing the change that their mothers will consume foods containing toxins or pathogens during a critical time of organ development."
Other things that doctors believe contribute to morning sickness include:
Increased hormone levels of hCG
Increased estrogen and progesterone levels
Sharper sense of smell due to hormones
Genetics
Stress and fatigue
Reduced blood sugar
Certain smells or spicy foods
Hot weather
Stretching of the uterine muscles
Eating too quickly or in large amounts
Heartburn or gastrointestinal reflux
Excessive saliva
Multiple births (having more than one child at once)
Symptoms of Morning Sickness
The main symptoms of morning sickness are nausea and vomiting. A loss of appetite and slow weight gain often accompanies this. I always knew when I was going to throw up because my mouth would be overly full of saliva and I had an uneasy stomach. In my case, this was usually brought on by eating too fast, eating large meals, or eating spicy foods (especially one of my favorites, Indian food). Also, don't be alarmed if you aren't gaining much weight at the beginning of your pregnancy; in fact, I lost weight during the first few months and didn't gain much meaningful weight until around the 5th month of my pregnancy (at my consultations with the doctor, they made sure everything was fine).
As unpleasant as it is, mild morning sickness is not harmful. However, if you continue experiencing symptoms past the first trimester, you may want to look into the issue further. Severe morning sickness, termed hyperemesis gravidarum, is marked by excessive vomiting and weight loss, which could hinder your baby's development. If you also experience a fever, racing heart, blood in your vomit, abdominal pain, dizziness, or headaches, you should immediately consult your doctor.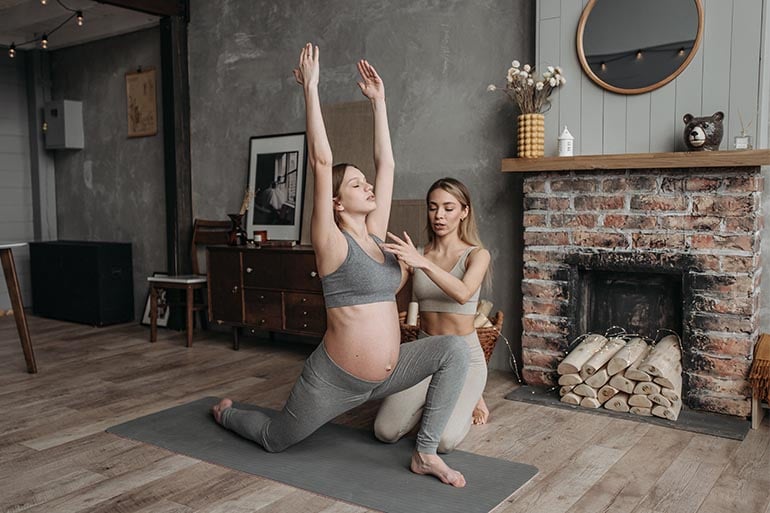 Treatments for Morning Sickness during Pregnancy
At my 6-week consultation with my doctor in Spain, she asked me if I was experiencing symptoms and graciously prescribed me two different medications. One was Famotidina, an antihistamine to absorb stomach acid and help prevent acid reflux, and the other was Cariban, an anti-nausea medication to help calm nausea and vomiting. While the first was covered under the Spanish public healthcare system, I had to pay for Cariban out of pocket and it cost around 20 euros per month. Vitamins and supplements can also be prescribed when needed.
Medication aside, there are a few "cures" you can try to help treat your morning sickness:
Water: Drink lots of water, but be sure not to drink it too fast.
Small, frequent meals: Eat small meals more frequently. For example, instead of 3 large meals at the beginning, middle, and end of the day, eat 6 mini meals throughout the day.
"Boring" foods: Eliminate spicy, smelly, or fatty foods from your diet. It might be boring, but your go-to staples will probably be rice, bread, fruits, and vegetables.
Bedside snacks: Always have salty crackers at arm's reach. I would eat some right after getting up in the morning and before going to sleep at night.
Ginger: Try ginger-based products such as ginger tea or ginger lozenges.
Breathing: When you feel nauseous, take deep breaths and try to remain calm. In my case, getting overwhelmed tended to make my symptoms worse.
While nothing is a cure-all, I did find that eating plain foods, regulating my breathing, and relying on my trusty crackers helped reduce the severity of my nausea. As a working mother-to-be, I was extremely lucky to be able to work from home and properly manage my morning sickness. However, if you work, study, or travel frequently outside your home, and find yourself constantly running to the bathroom and interrupting your day, you should talk with your doctor and employer to reach a solution while your morning sickness persists.
While I hope my tips for morning sickness help you, they also say that morning sickness can vary between pregnancies of the same woman. I will have to wait until next time to see if these tips work for my next pregnancy! If you're interested in maternity coverage in Spain, discover your options with Caser Expat Insurance in the guide below:
If you are searching for health insurance in Spain, Caser Expat Insurance has the right policy for you!