When I became pregnant with my first child in spring of 2016, the advice rolled in as quickly as a wave of hormones: what to do, what to buy and what to expect. As I was already in good health and in shape, my doctor had but one thing to say: give up smoking.
After all, the Mediterranean diet that Spaniards typically follow is one of the world's healthiest, and part of the reason why Spain has the highest life expectancy. But I didn't smoke – giving up cigarettes was easy, then - and have a Spanish husband who loves to cook, so my dad said it best when he inquired about my health: I'm sure you don't have to do much to your diet. "You're probably having a healthy pregnancy without having to make too many changes."
Spanish cuisine is rich in seafood, legumes and vegetables, and fresh products are abundant and cheap (and, unlike food in the US, not pumped full of hormones). Here are 10 healthy and easy Spanish dishes:
Gazpacho and Salmorejo
Perhaps my favorite Spanish dish (and the only one I've really mastered), gazpacho is a simple super food that is consumed in the summertime, most often in the south. Its ingredients don't stray much from tomatoes, cucumber, green pepper, garlic, salt, olive oil and water, so it's packed full of vitamins and helps you stay cool. Apart from being a pregnancy craving, it was heavy enough to keep me satisfied overnight when the summer stretched on.
You can substitute watery gazpacho with thick salmorejo by substituting the veggies for bread and a hard-boiled egg. Just be warned that salmorejo recipes can be extremely varied, and if you try to make it, it will never be as good as someone's abuela's recipe!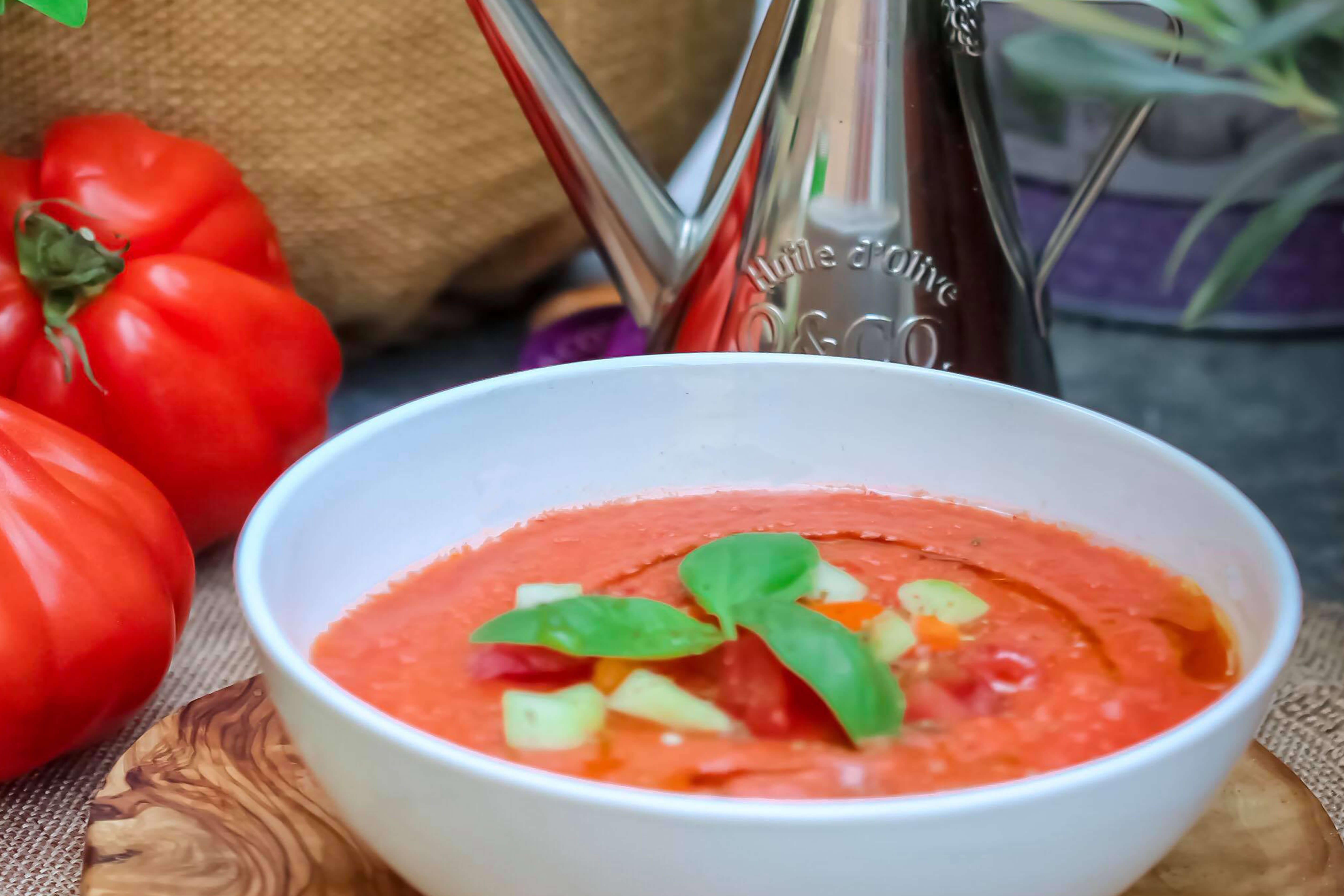 Pescado a la plancha
Spain boasts thousands of kilometers of coastline, so fish and seafood are present on tables year-round. From boiled and salted shrimp, blue fin tuna and grilled sardines in the south to salted cod, boiled octopus and fresh sea urchins, cracked open with a spoon, on the northern coasts, you can get your seafood fix in Spain in practically any restaurant or pintxhos bar.
Rather than buying at a supermarket, head to a lonja de pescado on one of the costas to see the daily catch being auctioned off, or even to a local market for the best prices and quality. An important tip: fishermen don't go out on Sundays, so you shouldn't order fish on Mondays (and pescaderías will be closed anyway!). If you happen to be in Málaga, consider checking out El Tintero, a seaside restaurant where you "bid" on your food and pay by plate!
Potajes
The Spanish diet is rich in legumes – lentils, garbanzos and other beans make up what your favorite abuelita would call a potaje or plato de cuchareo: warm, bean-based dishes you can eat with a spoon. Although they're a winter staple, you can find these dry ingredients year-round and for cheap, as they were often considered a poor man's dish.
Our favorites are lentil stew and fabada, a savory dish made with oversized fava beans, and you can find regional variations on just about any type of legume!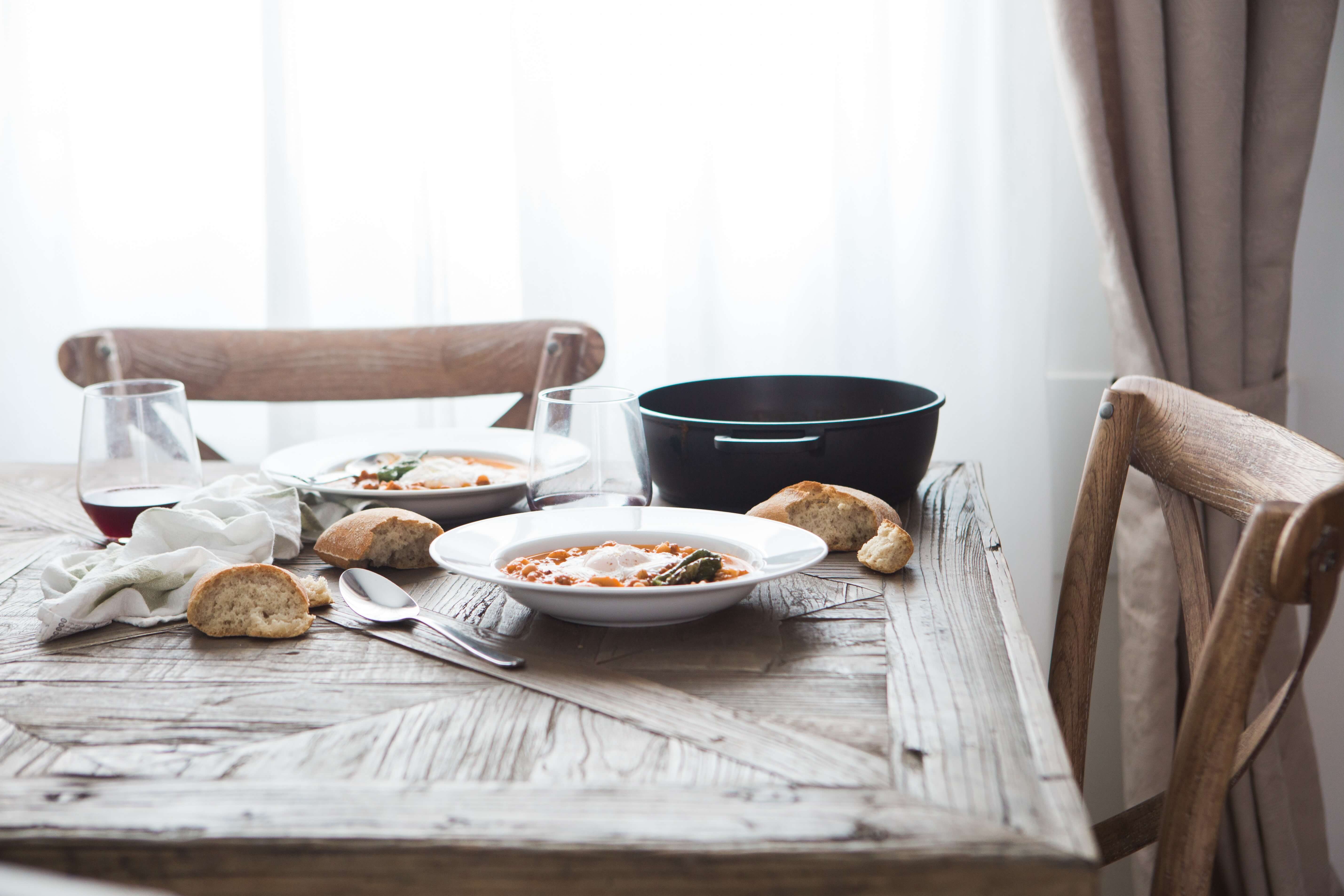 Pisto con huevo
While Spanish food seems quite simple, slow cooking gives cuisine it true flavor, including the sofrito, braised vegetables and herbs that is the basis of many dishes. Stewed vegetables - eggplant, onions, green pepper and zucchini – are the stars of the Spanish version of ratatouille, which comes with a healthy dollop of olive oil. Hours of stewing or a quick zap in a pressure cooker seam the flavors together.
Topped off with a runny fried egg, pisto is hearty enough without feeling heavy.
Melón con jamón
A perfect marriage of sweet and salty, this dish – commonly eaten after a meal as if it were dessert – is as simple as a crisp honeydew melon and a slice of jamón. It doesn't matter if you choose serrano or ibérico (or if you eat it as your meal!).
Cremas
Vegetable soup is like a deconstructed crema de verduras in Spain. After making a sofrito and adding in flavorful broth, it's common to mix dairy cream in with an immersion blender and puree the whole concoction for a simple way to get your Daily Five. My picks are pumpkin or leek based cream soups with some nutmeg and heavy whipping cream.
Olives and olive oil
Often dubbed liquid gold, Spain produces some of the world's most highly regarded olive oil. Rolling hills of olive trees are harvested and cold pressed into a thick lime green liquid, which boasts healthy fats, antioxidants and anti-inflammatories.
Discerning palates can even tell a gordal from an arbequina from a piqual – Spain grows more than 250 varieties! When you can, choose extra virgin (EVOO) for the healthiest option.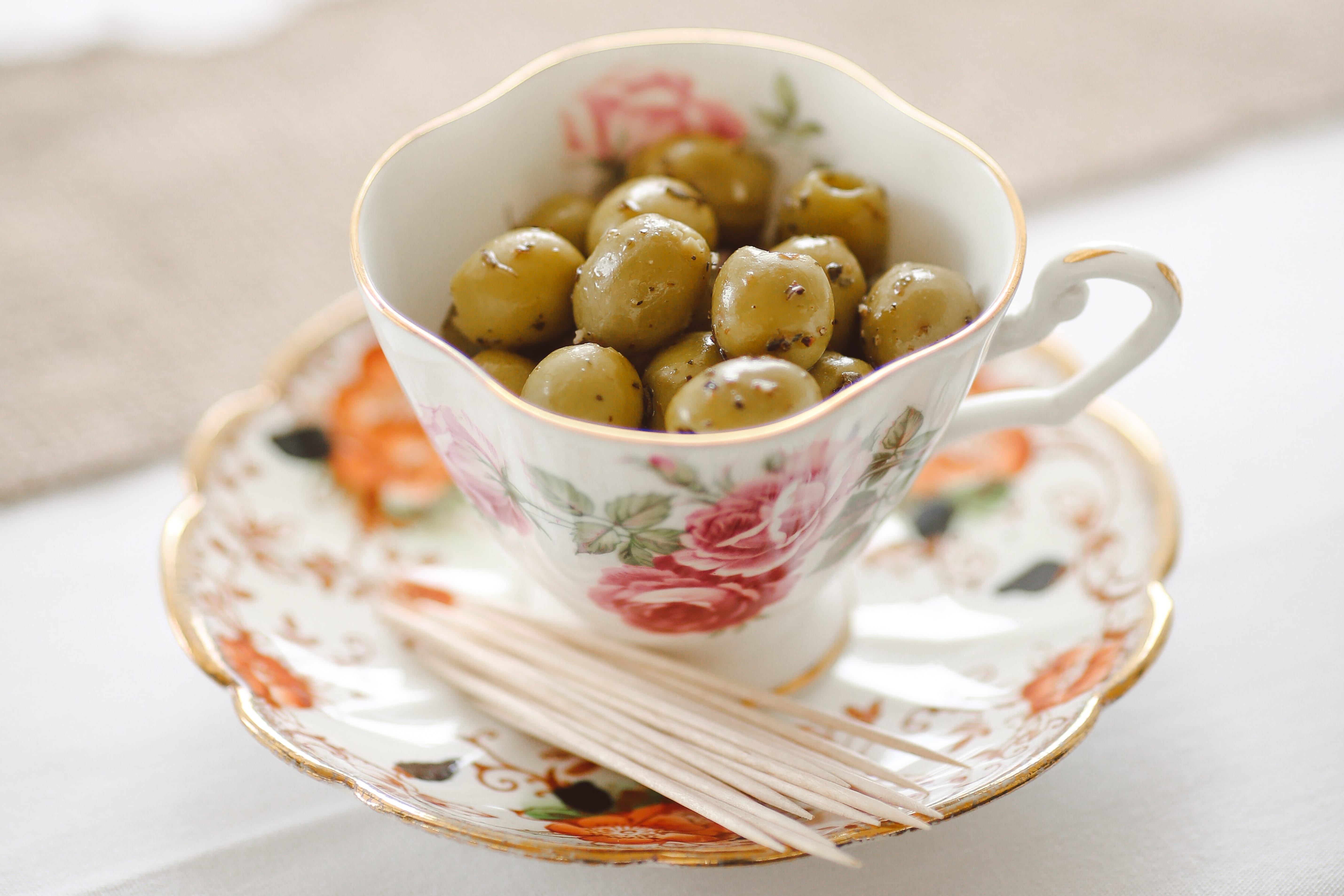 Healthy Spanish Dishes for Dessert
No cookies and cake after your lunch in Spain. Though it took some getting used to, I now reach for a piece of seasonal fruit or yogurt after a meal. My sweet tooth can get out of hand, so having a little sugar rush without the extra calories keeps me healthy. As greengrocers are stocked seasonally, check out whatever is fresh and de temporada – you may even discover a new favorite like membrillo (quince) or caqui (persimmon).
When I'm really craving a comfort food – pregnant or not – I can always count on a roast turkey or creamy mashed potatoes or baked goods, my ultimate downfall. But living in Spain and cooking Spanish dishes make it extremely easy to stick to the Mediterranean diet. And washed down with a glass of Spanish wine, pues, no te digo nada (unless you're trying to get pregnant or will soon give birth.)