The solid road infrastructure in mainland Spain coupled with picturesque routes in mountainous regions make Spain a prime country for riding a motorbike. That said, having the freedom to spin around the country with the "wind in your hair" (*cough* helmet) requires you to have in-depth knowledge of the traffic laws for motorcyclists and, in some cases, take further tests to obtain a different license class. If you're thinking of becoming a cool rider in Spain, read on to find out about the learning/application process for getting a driver's license in Spain and the rules you need to abide by once you're on the road.
Ins and Outs of Getting a Driver's License in Spain
First off, it's important to determine the requirements set out in article 7 of the General Regulation for Drivers (Reglamento General de Conductores) that must be met before getting a driver's license in Spain. Applicants must:
In the case of foreign nationals, accredit their status in Spain (regular residence or study stay of at least six months) and meet the age requirement.
Not be denied the right, by legal ruling, to drive vehicles or be subject to having their license suspended or revoked.
The legally established period from the moment a license becomes invalid due to the loss of points must have passed before a new license can be applied for.
Meet the psycho-physical requirements of the type of license requested.
Be declared apt by the Provincial Traffic Department in the necessary theory and practical tests for each driver's license class.
Not hold a driver's license, be suspended or have had their license revoked (same class) in another EU member State or states within the EEA.
In the next sections, let's break down the different driving license classes and the categories of motorcycles that are legally compatible with each.

Class AM
The class AM authorises holders to drive two or three-wheeled mopeds and lightweight quadricycles with a maximum speed of 45 km/hour on public roads. The minimum age to obtain this license class is 15. The tests required include a psycho-physical aptitude test, a written theory test and a closed-circuit practical exam.
Class A1
The class A1 license authorises holders to drive a lightweight motorcycle with a maximum capacity of 125cc and maximum power of 15hp on public roads. Drivers are also allowed to operate motor tricycles with a maximum power output of 20hp. The minimum age to obtain this license is 16. Tests to pass: psycho-physical aptitude test, a common and A1-specific written theory test as well as a closed-circuit and an open-road practical exam. Drivers who have been in possession of a B class license for at least 2 years will be automatically certified to drive A1-compatible vehicles.
Class A2
The class A2 license allows holders to drive all vehicles covered with the AI class, plus motorcycles with a maximum power of 47 hp. The minimum age to obtain this license is 18. Tests required by law: psycho-physical aptitude test, a common and A2-specific written theory test as well as a closed-circuit and an open-road practical exam.
Class A
This class authorises the use of any type of motorcycle and moped on public roads. The minimum age required is 20, as it is necessary to have been in possession of an A2 license for a minimum of 2 years beforehand. A psycho-physical test must be passed to qualify.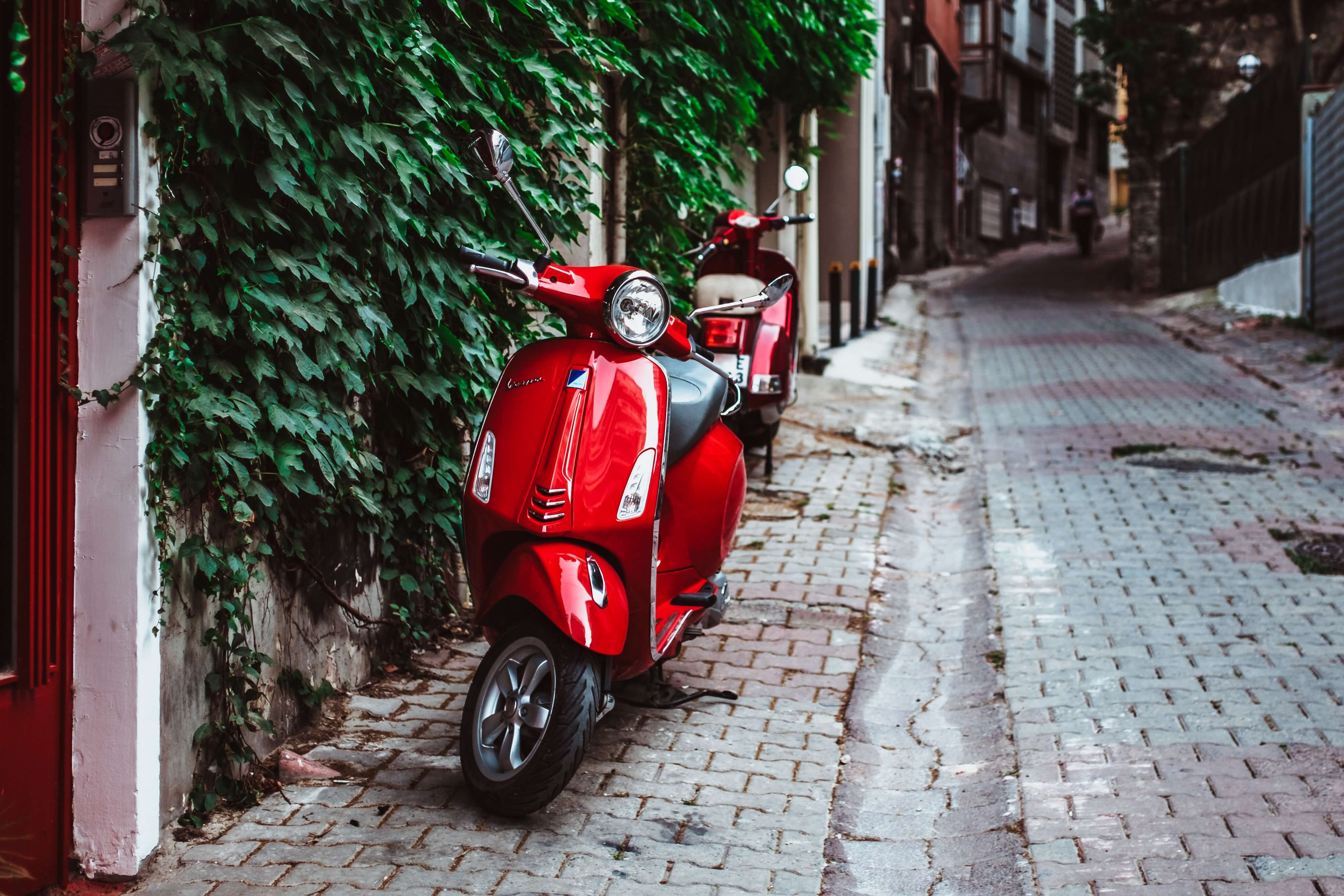 Safety equipment
After getting a driver's license in Spain, the law requires drivers to wear a safety helmet when operating any kind of moped or motorcycle. Failing to do so will result in a €200-fine and losing 3 points on your license. To be on the safe side, always follow UN Regulation ECE 22, which establishes the safety requirements that the model must meet. Read the UN Riders' Guide to protective helmets. It is also illegal to drive whilst wearing headphones as this can reduce the attention that the driver pays to external surroundings.
Parking
There has a been a lot of debate surrounding the issue of parking for motorcycles in Spain, primarily due to the lack of designated spaces to cover the high number of vehicles, but there are various general rules in place that must be followed:
In designated spaces for motorcycles and mopeds, provided there is enough room. It is strictly forbidden to park these vehicles in bicycle zones.
On the road itself, in a diagonal position, between other vehicles. The maximum space that can be occupied per motorcycle/moped is 2 metres, and access to other vehicles must not be blocked.
On pavements/sidewalks, but different rules apply depending on the region/city and the width of the pavement. Generally speaking, on pavements measuring between 3 and 6 metres, motorcycles and mopeds must be parallel parked.
Speed Limits
| | | | |
| --- | --- | --- | --- |
| | Motorcycles | Mopeds | Tricycles and lightweight quads |
| Motorway/highway | 120 km/h | 45 km/h | 45 km/h |
| Conventional road | 90 km/h | 45 km/H | 45 km/h |
| Unpaved roads | 30 km/h | 30 km/h | 30 km/h |
For further info on speed limits and the different fines that are imposed for breaking them, check out this infographic.

Insurance for Getting a Driver's License in Spain
In Spain, it is compulsory to take out an insurance policy for motorbikes and mopeds with a minimum third-party liability cover. Caser offers various types of insurance cover for expats, including third party, third party with robbery and comprehensive with excess. Discover Caser motorbike insurance for further information.
Riding a motorbike or moped, no matter where you are in Spain, is a quick and comfortable means of transport and, often, less expensive than a car. That said, it is always important to be 'up to speed' with the rules and regulations both nationally and in the various autonomous regions to ensure that everyone stays safe. Happy driving!