Many foreigners currently living in Spain got their first taste of the lifestyle, language, and culture of the country during their time studying abroad. As an American whose life was changed by studying abroad in Spain, this is a topic very close to my heart, and not one that I take lightly. For students making the decision about where to study, there are many things to take into consideration in order to have the best study abroad experience possible. In this article we will cover the best places to study in Spain and what you should keep in mind for each one.
As you begin your search, one of the first things you'll want to know is what to expect in terms of costs. I suggest taking a good look at our guide on the cost of living for international students in Spain which will give you a good idea of what to expect as you plan your budget for your time abroad and decide on your destination. Lastly, another great resource to have a look at before you embark on your adventure is our checklist for moving to Spain for a year or more, to make sure you don't forget any necessities.
If you're coming to study in Spain from the UK, be sure to check out our article on studying in Spain after Brexit!
What to consider when choosing where to study abroad in Spain?
Keep these things in mind when you're deciding where to study abroad in Spain:
Location. Is it close to a big airport? Is it well connected with a train station and other transport?
Language. Spanish is the official language of Spain, but there are six regions that have co-official languages, and it's a good idea to know if you'll be studying in one of them.
Cost of living.

Spain is a very affordable country, but as with any place, the cost of living can vary greatly depending on where you are. Knowing this will help you decide if your city of choice is within your budget.

Here you should also make sure your program has your

student health insurance

sorted, as you'll need that for a temporary stay in Spain.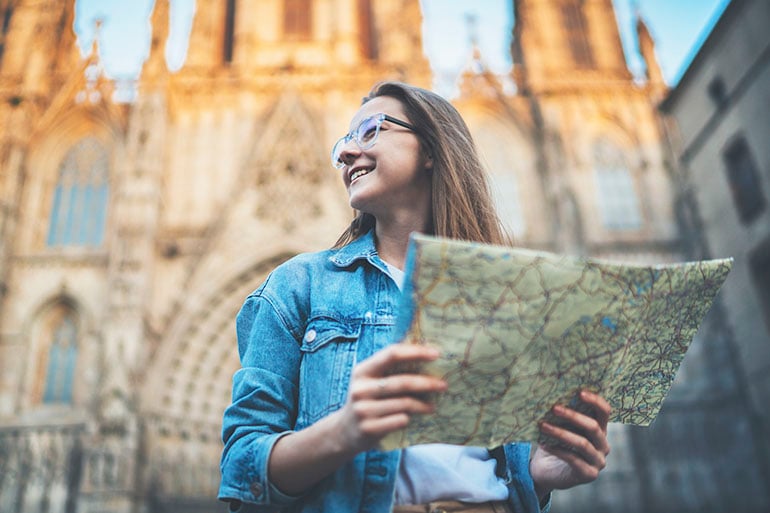 1.
Seville
Near and dear to my heart, (and my first choice, of course!), is the beautiful city of Seville, which is perfect for a study abroad experience for so many reasons. Not only would many consider it to be the cradle of authentic Spanish culture, it is without a doubt one of the most beautiful cities in all of Spain. Your new favorite pastime will be getting lost in the colorful, narrow streets of Santa Cruz, and tapa-hopping all around the city center. Boasting not one, not two, but three UNESCO world heritage sites, as well as two of the most famous Spanish festivals known internationally– the Fería de Abril and Easter Week, or Semana Santa. It lands somewhere in the middle as far as cost of living, beating out Madrid and Barcelona, but more expensive than smaller cities around the country.
Something to keep in mind:
The only official language here is Spanish, and the level of spoken English isn't extremely high. In addition, the regional accent in Andalusia can prove difficult even for native Spanish speakers, so while it may be an initial challenge, it is a great place to really improve your Spanish language skills.
2.
Madrid
A natural go-to and favorite for many people headed to Spain for the first time–students and tourists alike–Madrid is frequently named as one of the best places to study in Spain. Why? There is no doubt that the country's capital has lots to offer–from a bustling gastronomic scene to some of the best museums in the world, and an airport that connects you to almost anywhere on the map in a matter of hours. Another great reason to choose Madrid is because it is a city of students. Thousands of international students choose Madrid as their destination for studying abroad because of the number of world class universities and programs of study–in addition to the famous nightlife, of course!
Something to keep in mind:
The cost of living in Madrid is steep, and it is the most expensive city in all of Spain. Depending on your budget, you might want to look into more wallet-friendly options.

Many people will point to Madrid as the "gold standard" of the Spanish language. The accent is easy to understand, and the level of English is higher here than in other areas of Spain, which makes it a good choice for those with a beginner's level of Spanish.

Madrid isn't small–it is the biggest city in Spain and the 3rd largest city in Europe with just over 3.1 million people. If you're a city person, this might be great, but if you're looking for a bit more intimate vibe, Madrid might not be your top pick.
3.
Barcelona
No list of the best places to study in Spain could fail to mention one of the crown jewels of Spain–Barcelona. After having lived there for over five years, I can personally say that it is a great place to study and live abroad. While it isn't what you would consider "typically" Spanish, it has a flair all its own that truly stands out. Between the incredible architecture of Gaudí sprinkled around the city, the mountains to the east, the Mediterranean to the west, a world-class restaurant scene, world-renown events and concerts every other weekend, and a few of the world's best universities–Barcelona is for those who are ready to dive in head first. While the cost of living is right up there with Madrid, if you can afford it, you won't be disappointed.
Something to keep in mind:
Catalonia, the autonomous community (similar to a state), that Barcelona belongs to, has strong cultural, political, and linguistic roots that aren't all Spanish. Catalán is a co-official language and spoken by most locals–sometimes exclusively. Barcelona is also an incredibly international city with quite a high level of English. For these two reasons, if learning Spanish is your primary goal, Barcelona might not be the place where you'll be able to use it most.
As with Madrid, Barcelona does not come out a winner in the cost of living department, so if you have your heart set on it, be sure you are prepared for the potential costs.
4.
Salamanca
Salamanca is home to the oldest university in Spain, and the third oldest in Europe–yes, it's even older than Oxford! Established in 1218, it has become renowned worldwide for its Spanish language programs specifically, which is great news for international students. Even better news is that the student life culture in Salamanca is one of the best in the entire country. With just under 150,000 inhabitants it is a relatively small city and the university alone has about 28,000, making it a university town by all definitions. Most residents are between the ages of 18-30, and the nightlife, festivals, restaurants, and cost of living reflect that. For all of these reasons, Salamanca is at the top of many students' list of best places to study in Spain.
Something to keep in mind:
Salamanca is not as well connected with the rest of Spain as other destinations. There is no high speed train which means coming from Madrid takes just over two hours, and most other travel around Spain will have to be by bus, unless you rent a car, or go to Madrid first. This means international travel is not as easy as it would be in bigger cities with an airport.
5.
Granada
There is a famous quote that, roughly translated, means, "There is nothing sadder than being blind in Granada,"-and it couldn't be more true. It is impossible not to be enamored with the charm and beauty of the city itself, the free tapas culture (yes–free!), and vibrant, young, alternative energy it gives off. The city was the last Muslim stronghold before being taken over by the Catholic King and Queen, Ferdinand and Isabella. These same two royals, (who are buried in a small chapel in Granada), are the ones who gave permission to Christopher Colombus to travel to the Indies, where he instead discovered the Americas. The incredible Alhambra and accompanying Generalife gardens are impossible to visit and remain unchanged. The narrow, cobbled white streets of the Albaycín neighborhood feel like something out of a Greek isle. Lastly, the numerous well-respected universities and university programs available in Granada afford ample opportunities when it comes to student life and activities, making it the perfect place to study abroad in Spain.
Something to keep in mind:
One of Granada's biggest draws is nature. Those looking for hiking, skiing, and all things outdoors will find themselves right at home in Granada and with plenty of activities to choose from.

Granada is a big winner when it comes to cost of living, beating out even Salamanca.
6.
San Sebastian
One of the most stunning towns of northern Spain, San Sebastian, or Donostia as it is called locally, is a great choice for students thinking about a semester or year abroad. The mid-sized city with a population just under 190,000 people wraps itself around the turquoise Concha Bay, and is just a half an hour south of the French border. San Sebastian is known the world over for its incredible culinary scene and pintxo culture, making it an absolute foodie haven. Being a part of the Basque country means it has a unique history, both politically, culturally, and linguistically. San Sebastian would be the best place to study abroad in Spain for those looking for something a little bit outside your traditional Spain experience.
Something to keep in mind:
The local and co-official language of the Basque country is Euskara. Unlike other co-official languages in Spain such as Catalan or Galician, whose roots are Latin and therefore similar in many ways to Spanish, Euskara's exact roots are still unknown and the language itself is difficult to master.

San Sebastian is on the more expensive end as far as cost of living, so be sure to check out the cost of living there before you decide on your study abroad destination.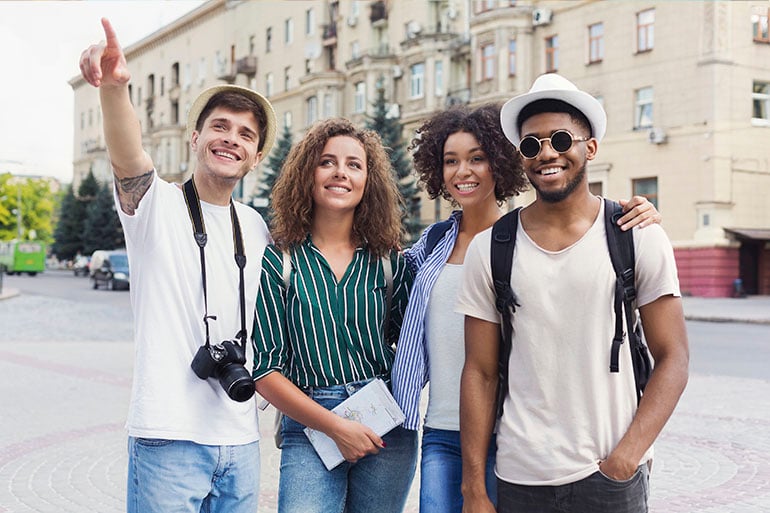 7.
Valencia
Another coastal gem is the city of Valencia. At almost 800,000 inhabitants it is Spain's third biggest city, but despite its size, the cost of living is actually relatively low. In fact, it beats out every city on this list except for Granada and Salamanca, which makes it perfect for someone looking for a bigger city feel with a smaller city budget. Valencia is easy to get around walking and by bike, and the famous Jardin del Turia park, which is a green space spanning almost 10 kilometers that replaced part of the river Turia, is perfect for students, families, and sports enthusiasts alike. The city also boasts the renowned Science Museum and Aquarium that are famous all across Spain, as well as a beautiful old town city center perfect for walks along the historic cobblestone streets. And who could forget paella? Valencia is the birthplace of this traditional Spanish rice dish, and you won't find paella of this quality anywhere else. It is also famous for its student population and nightlife, which in many places, go hand in hand. You'll never be bored on a Saturday night in Valencia! Lastly, and perhaps most importantly, is that the city sits along the beautiful Mediterranean, and you can find many students reading and studying along the famous Malvarrosa beach during the warmer months of the year.
Something to keep in mind:
Valencia is part of another autonomous community that has two co-offical languages: Spanish and Valencian, which is similar to Catalan. While Valencian may be taught in schools and most locals will speak it fluently, the majority of residents will speak in Spanish so if one of your main goals during your year abroad is to learn Spanish, you'll have plenty of opportunities to practice.
It is easy to see that there are many things to take into consideration when deciding where to study abroad in Spain. Cost of living, languages spoken, location and connectedness–just to name a few. But when it comes down to it, despite the fact that the aforementioned places are, without a doubt, some of the best places to study in Spain, no matter where you decide to go, you're sure to learn a lot, make lifelong friends, and have an experience you won't soon forget. Good luck on the adventure to come!