When you give birth, you want to make sure that the hospital you choose will meet your standards and provide the care that you're looking for. Expats in Spain often have specific needs, and Caser Expat Insurance has kept that in mind when creating their mix of healthcare policies. In the following article, learn all about the best hospitals to give birth in Spain and the coverages and processes that you can expect during your maternity journey.

What are the 10 best hospitals to give birth in Spain?
The majority of the top hospitals in Spain are concentrated around Madrid and Barcelona. As of 2021, Barcelona's Hospital Clínic de Barcelona came out on top. Number 2 is Madrid's Hospital Universitario La Paz, which is known for its obstetrics gynaecology, and paediatrics departments, among others. While public hospitals will give you standard maternity services and care, private hospitals are more likely to cater to your individual wishes for the birth and offer alternative birthing methods.
According to Newsweek's "World's Best Hospitals 2021" Report, the top-rated hospitals in Spain are:
| | | |
| --- | --- | --- |
| Rank | Hospital | City |
| 1 | Hospital Clínic de Barcelona - public | Barcelona |
| 2 | Hospital Universitario La Paz - public | Madrid |
| 3 | Clinica Universidad de Navarra - private | Pamplona |
| 4 | Hospital General Universitario Gregorio Marañón - public | Madrid |
| 5 | Hospital Universitario 12 de Octubre - public | Madrid |
| 6 | Hospital Universitari Vall d'Hebron - public | Barcelona |
| 7 | Hospital Ramón y Cajal - public | Madrid |
| 8 | Hospital Universitario y Politécnico la Fe - public | Valencia |
| 9 | Hospital Universitario Fundación Jiménez Díaz - private | Madrid |
| 10 | Hospital Clínico San Carlos - public | Madrid |
The hospital with the most fame among expats for being the best hospital to give birth in Madrid is Torrejon de Ardoz, in part, due to its offerings of alternative birthing methods such as a water birth. In fact, this is the reason many expats prefer using private hospitals or clinics, which tend to offer more of these types of birthing services.
To find private hospitals near you, consult our Healthcare Network by region.
What birth services do Spanish hospitals typically offer?
In the following Caser article, read about the maternity appointments and services that you will encounter with the public system. As the article mentions, private insurance gives you access to private rooms, more scans, and doctors that speak your language. For these reasons and others, many expats tend to prefer private hospitals or clinics that are more in line with their specific needs. If you're still undecided on which to choose, see here the pros vs. cons of doing your maternity journey using the public vs. private maternity systems.
The day of the birth itself, in the public system, you will arrive at the emergency room of your local hospital and be admitted into the maternity ward. You'll need to take all important documents, your birth plan, and your suitcase packed with all the newborn baby essentials. You may be in a shared room while waiting to give birth and after birth. With private insurance, you're more likely to be able to request a private room or suite.
During the birth, hospitals in Spain offer pain relief methods including epidurals and pethidine. One partner is allowed in the birthing suite; however, since Covid-19, additional visitors to the hospital have been restricted.
Following the birth, the baby's health will be assessed by heart rate, breathing, and reflexes. You'll receive a booklet to track the baby's health and checkup appointments, since you will need to be going to the pediatrician every few months during the first year. Finally, mom and baby can leave the hospital together after 48 hours, unless there are complications.
For further information, here is an exhaustive guide of the differences in giving birth in a public vs. private hospital in Spain.
What services are included in Caser private maternity insurance?
With Caser Expat Insurance, there are numerous maternity coverages included in our policies. Get the full rundown of Caser maternity coverages in this blog post, or consult the abbreviated list below:
Before childbirth: Fertility treatment, prenatal screening (including for fetal abnormalities), prenatal classes, Birth Preparation Program.
During childbirth: Access to midwife, obstetrician, and pediatrician, pain relief, hospital stay in a private room with a bed for your partner.
After childbirth:

Add baby to healthcare policy

without fee within 15 days, postpartum care, pelvic floor rehabilitation assistance.
Keep in mind, there is a waiting period of six months before using maternity services.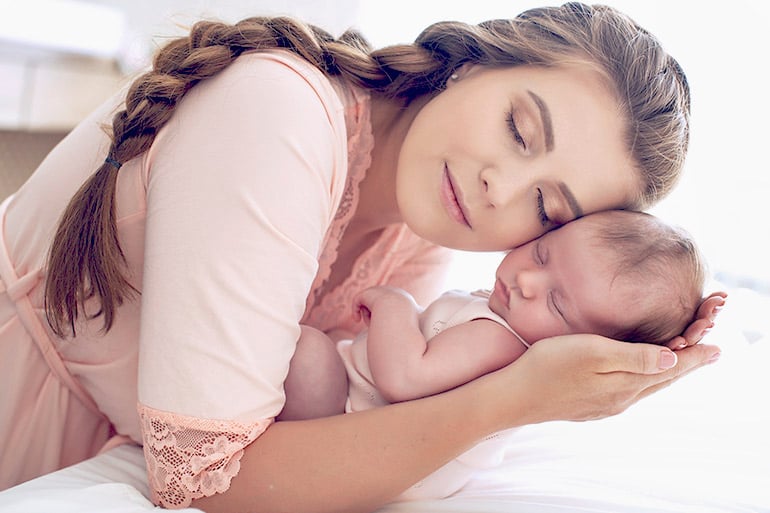 Do I need health insurance for my child?
While you can always access services for children under the Spanish public healthcare system, getting private insurance can help speed up the process in the case of emergency and give you access to special coverages. It definitely brings peace of mind in those worrysome moments.
Caser Expat Insurance offers two types of family insurance plans that include coverages for children: Integral and Médica. Integral offers the most comprehensive coverage, offering a range of medical specialities, diagnostic tests, hospitalisation cover, special treatments and emergencies. Médica is the perfect option to combine with public healthcare. Read more on family insurance plans or continue below to discover specific coverages for children.
Caser healthcare coverages for children
Check-ups with numerous specialties: From the birth to adolescence, children require health check-ups. Child medical insurance includes a wide range of specialties: paediatrics, dermatology, ophthalmology, etc.
Diagnostic tests: Direct access to clinical analysis, X-rays, MRIs, CT scans.
Pediatric hospitalizations: Includes hospitalization in a single room with a bed for the companion.
Biomechanical study of the feet: This consists of analyzing the behavior of feet during childhood to prevent muscle injuries, joint inflammation, and detect alterations in the musculoskeletal system.
Special treatments: Such as speech therapy or phoniatrics to treat organic pathologies of the vocal cords.
Teleconsultation: to speak with the medical specialist by call, video call or online chat 24 hours a day. Solve any query related to your child's health without having to go to a medical center.
Reimbursement of expenses and vaccinations: Some policies include the reimbursement of expenses for optics, pharmacy and childhood vaccinations.
Oral health: Dental services can be a real headache and extra cost. With health insurance for children, you can lower costs and receive free services (such as consultations, diagnoses, cleanings, extractions) in addition to typical treatments at reduced prices. Discover the Caser policy that includes full dental coverage:

Adapta + Sonrisa Esencial

.
As an expat in Spain, know that Caser Expat Insurance has you covered! To find out more about our pregnancy=related coverages, download the guide below: