Much has improved in Spain over the years and one of the most noticeable changes is the country´s public transportation system. Whether it´s by train or bus, Spain's transportation options offer something to every traveler. And if you choose to move around by car, you´ll be able to enjoy the freedom of stopping anywhere along the 'camino' that catches your attention. Keep reading to discover what the best options are to get around and travel in Spain.

Spain Transportation: Car
General Information on Driving in Spain
Spain has an incredible highway system and all you need is an EU driver's license to drive around. If you are a non-EU citizen, we recommend you get an International Driver´s License. If you're not clear on the rules, read this blog post on valid licences in Spain.
Remember the Spanish drive on the right and the speed limit on most highways (autopistas) is 120kph. On autovías, (second grade roads) it´s 90kph and in most cities and town it´s 50kph. Keep in mind that speed limits are enforced and the police have the power to fine you on the spot.
Toll roads (designated by an "AP", "R" or the word Peaje, meaning toll) are an excellent way to avoid traffic and you can pay with cash or a credit card. Wondering where Spanish toll roads can be found? Check out our free toll road guide.
For gas fill-up or a quick break from driving, head to a gasolinera (gas station) like Repsol or Cepsa.
Renting or Owning a Car in Spain
There are hundreds of car rental services including worldwide companies such as Avis, Hertz, or Thrifty and local Spanish companies like Pepecar. To rent a car in Spain you must be 21 or older, have a proper driver's license and be prepared to leave cash deposit. Also, make sure you have insurance in case of an accident or road assistance. Another excellent option is blablacar, which connects people who need to travel with drivers who have empty seats. Plus it´s a wonderful way to meet new people and practice your Spanish.
If you plan on owning a car in Spain, apart from vehicle registration, you´ll need insurance papers, two hazard triangles, reflective jackets and a first aid kit. As a Caser Expat Insurance policy holder, remember that the service comes with 24-hour a day personalized assistance in English and a courtesy vehicle in case of a mayor breakdown.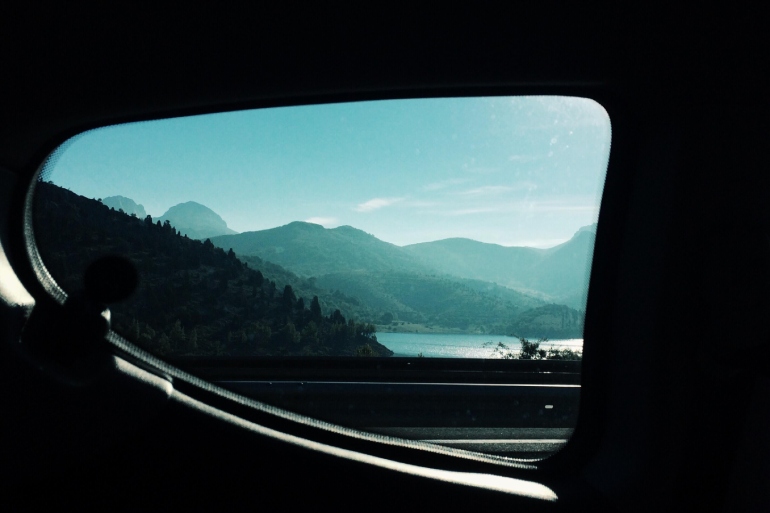 Parking Rules in Spain
If you plan on driving around Spain, keep in mind that there are metered parking zones in big cities and old-town areas. Saturday afternoons, weekday between 8pm and 8am, and Sundays are free. Otherwise, double-check before you park as there are green and blue bays, which mean you´ll have to pay to park. Other options are leaving your car in a secured parking lot or checking with your hotel to see whether it has parking facilities.
Spain Transportation: Train
General Information on Trains in Spain
The rail network reaches all the provincial capitals and main towns along the inter-city lines. Just keep in mind that train stations in smaller towns are usually located a few kilometers away. All Spanish trains are operated by RENFE and are comfortable, fast and efficient. The RENFE website, available in English, offers you timetables and the chance to purchase your tickets and print them. You can also have them printed at the station, using the automated machines. Just remember to bring along your reference number.
Advance tickets can be purchased at the stations between sixty days and five minutes before departure, but we recommend doing it online, as there can be long lines in the stations. Make sure you check for deals on the RENFE website, sometimes you can get up to 60% discounts on full fares!
Some words to remember when looking into train transportation in Spain are billetes (tickets), ida y vuelta (round trip) or solo ida (one-way). If you are over 60 or under 26, disabled or are traveling with children between 4 and 11 years old, you can enjoy discounted fares of up to 20 and 40%.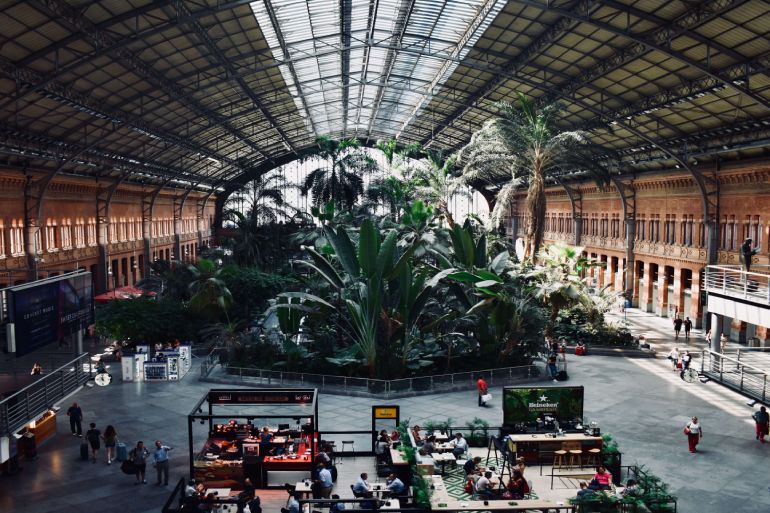 Local and Long-Distance Trains
The local commuter trains are called trenes de Cercanías and take you in and around major cities. Media distancia are regional trains and larga distancia are long distance trains, which are divided into Avant, Alaris and Ave, the country´s high-speed trains. The difference is price, speed and number of stops.
Taking Spain´s legendary AVE, which stands for Alta Velocidad Española, (Spanish High Speed) is the best option if you want to save time, enjoy the plush seats, movies, and the bar. The initials are a play on the word ave, meaning, "bird". Did you know that it´s the longest HSR network in Europe covering 3,100 km and is the second in the world, after China'?
Spain Transportation: Bus
Buses are a wonderful way to travel throughout rural parts of the country and between cities. It might be slower, but it´s also more affordable and ideal for short distances. A bus from Madrid to Santander, for example, will cost you €28 and takes about 6 hours. There are many bus companies who operate within the country. One of the most prominent companies is ALSA and it's well known for its reliability, services and efficiency.
Key words to remember are laborables (workdays, including Saturdays), diario (daily) and domingos and festivos (Sundays and Public Holidays.)
While trains and buses are great, you may already be thinking about buying a car in Spain. Do you know the coverages available to you? Discover them in our guide: