Never driven in Spain before? Running on empty and afraid the gas stations will be closed for the afternoon siesta? Not sure what the speed limits are, what documentation is required, or how to pay a fine? Just sit back, relax, and follow these driving in Spain rules and expert tips for expat drivers.
Age and Necessary Documentation to Drive in Spain
To drive in Spain you must be 18 years old or older and have a valid driver's licence (EU member state citizens only). If you're not a European citizen, you will need an International Driver's Licence. Before hitting the road, contact your Embassy or Consulate just to double-check that you have everything in order. If you don't, you could end up paying up to 250€ in fines! And remember to always carry a proper ID or passport.
If you want to rent a car, the minimum age to do so is 21 years old, and most rental car companies require you to have had a driver's licence for at least 1-2 years.
Driving in Spain Rules and Safety Measures
Talking on a cell phone is prohibited, but you can use hands-free.
Bloodstream alcohol levels must not exceed 0.25 mg/l.
Seatbelts must be worn by the driver and all passengers, in front and back seats. If not, you´ll be fined. Children under 12 years old cannot be seated in the front seat.
In case of an accident or if your car breaks down on the road, a reflective jacket must be worn when getting out of the car.
When the car is stopped on the road or shoulder, you must place a warning triangle a few meters behind the vehicle.
Programming a GPS while driving is considered an offense.
Do not park in the space reserved for handicapped or disabled drivers, or where the curb is painted yellow or red.
Make sure your license plate is readable. If you manipulate it, you can get a fine of up to 6,000€.
Whenever you approach a roundabout (glorietas orrotondas, in Spanish), the car already circulating in the roundabout has the right of way. Make sure you give drivers in the right-hand lane the right of way.
Pedestrian crossings are marked with black and white striped lines. If there´s no traffic light at the crossing, pedestrians have the right of way.
Use the left lane on highways to overtake another car. Otherwise, use the right or middle lane.
No radar detectors or headphones can be used when driving.
Feel free to use your horn when needed.
Peaje means toll road. You can pay with cash or credit card. Discover our toll road guide here.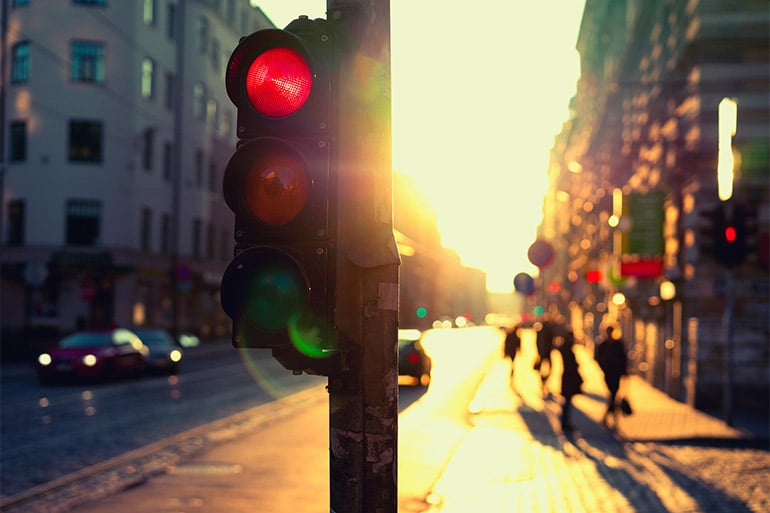 What you need to know about speed limits
You need to take this matter seriously, since a great percentage of fines are issued for speeding and can be up to 6,000€:
Up to 50km/h in town, residential and built-up areas.
Up to 90km/h out of town.
Up to 100km/h on dual roads, carriageways, and roads with overtaking lanes.
Up to 120km/h on motorways.
Points, Licence Removal, and How to Pay a Fine
Points: You'll lose points on your driver's licence if you drive recklessly, drive without your lights on, or park in a bus lane or on the curb. We suggest you read the Spanish Ministry of Interior´s website to get the ins and outs of how the point system works. Remember, you can regain up to 6 points by attending a road safety class.
Fines: You can pay your ticket or fine using your credit card by calling 060 (within Spain). Please note this service is only available in Spanish.
You can also pay your fine online via the Department of Transportation of Spain website.
If you'd like to pay your fine in person, go to any Banco Santander branch or your nearest post office.
If a local authority gives you a ticket, we suggest you head directly to the nearest Town Hall.
A huge bonus to keep in mind is that if you pay within 20 days of receiving a ticket or fine, you´ll get a 50% discount.
Driving in Spain Rules and Final Tips
If you'd like to find out about road conditions, you can access them here in real time. Remember that if your vehicle breaks down, you're going to be subject to Spanish law. You might be at risk of a fine if you don't use warning triangles or a high-visibility jacket on the open road.
There are also a set list of documents you need to have in your car at all times. Don't get caught without them! Discover our guide below:
If you are searching for car insurance in Spain, Caser Expat Insurance has the right policy for you!