As children grow, so do their needs in certain areas. This is especially true when it comes to their dental care and oral health. When they're babies parents anxiously await those first teeth to pop through, but as they get older, we soon realize the real responsibility we have not only to educate them and put them on a path to good dental health as a child, but also the duty to provide them with a comprehensive dental plan that cares for their teeth and overall oral health and well-being. Not only that, but an important part of a child's oral health is of course regular check-ups and cleanings, but even with the best intentions and precautions taken, the unexpected can happen, and that's where children's dental services come in.

Caser Expat Insurance knows that as an expat, it can feel like every process is overwhelming, and choosing a dental plan is no different. Adding to that stress is that depending on the country you come from, you may be avoiding getting your whole family on a dental plan because you're afraid of what the cost will be. That's why we've put together a comprehensive guide to what you can expect with children's dental services with Caser Expat Insurance. These plans offer comprehensive preventative measures as well as treatments at affordable prices that will suit any family.

How does children's dental insurance help?
A good dental plan for children includes preventative treatments to make sure their teeth, gums, and jaw are as healthy as possible, as well as specific treatments for when things don't always go as planned. Some of these treatments include:
Regular check-ups and x-rays

Topical fluoride treatments for their teeth

Evaluation of the need for braces or other orthodontics

Treatment of cavities

Emergency dental care in case of emergencies
Why choose children's dental services with Caser Expat Insurance?
In addition to all of the free and discounted services listed below, when you choose dental insurance with Caser Expat Insurance you can also expect the following:
No age limit–you can use the dental insurance plans no matter what your age.

A plan for the whole family: our family plan covers 3-6 members all for the same, affordable rate.

No copayments on covered services. They're free, every time.

No grace period–start enjoying your insurance from day one.

No medical questionnaire–the state of your teeth or oral health at the time of choosing a dental plan with Caser Expat Insurance doesn't matter, you'll still be covered.
What services are included in the Caser Expat Insurance dental insurance for children?
You can count on all of these services and treatments for any child under 15, whenever they may be necessary. Having that kind of peace of mind for a low monthly cost is invaluable, especially when we're talking about children. Below you'll find some of the most common services and treatments needed by children, but here you can find a comprehensive full list of all free services and dental treatments included in Caser Expat Insurance's dental plans, including specific services available for children.
Preventative dental treatments for children
The famous quote from Desiderius Erasmus reads, "Prevention is better than a cure," and as a society we know this to be true, especially given recent years. This old anthem couldn't be more true when it comes to children and their dental health. That's why Caser Expat Insurance's dental insurance plan for children always includes the following:
Bi-annual check-ups and cleaning

Plaque removal when necessary

Topical fluoride treatments

Filling any cracks or fissures in the teeth

X-rays

Evaluation for orthodontics or other treatments as needed
Treatments included in children's dental insurance
In addition to the preventative treatments covered, you'll also have these treatments included in our dental services for children.
Temporary and permanent tooth filling to temporarily fill the dental gap produced by a cavity.

Coronary reconstruction: detailed treatment for cases in which a tooth suffers damage to its structure.

Opening, drainage and pulp capping: pain relief technique prior to dental endodontics.

Pulpotomy or pulpectomy: for when the baby tooth is affected by an inflammation of the pulp.

Apicoformation: to stimulate the formation of the root of the tooth.

Prefabricated crown: to restore dental surfaces damaged by cavities.

Fixed and removable space maintainers.

Simple tooth extractions

Wisdom tooth extractions
As we said above, even when parents do their best to instill good oral health and hygiene at a young age, follow all the best tips for kid's dental care, and bring children to their cleanings every six months, things can still go wrong. In fact, according to the National Institute of Dental and Craniofacial Research, "42% of children ages 2 to 11 have cavities in their primary teeth," and "more than 20% of children ages 6 to 11 have cavities in their permanent teeth,". Those are some steep statistics, which is why having a dental plan that covers preventative measures and common dental treatments is so essential.
What does good dental health look like in children?
As we mentioned, good dental and oral health and hygiene starts at a young age, and as children grow, so do their dental needs depending on their age. As parents and guardians, we have a duty of care to set them up for a clean bill of dental health which looks a bit different at each stage in life.
Dental health in babies and toddlers ages 0-2
Formula or breastmilk should be the only food or drink offered to babies up until 6 months. This will avoid any unnecessary sugars being introduced or other substances that can cause damage to an infant's digestive system, gums, or incoming teeth.

Water and plain milk are the best drinks for babies over 6 months. Any juice has naturally and artificially occurring sugars which damage the tooth enamel and can cause cavities.

Start cleaning baby's teeth as soon as they appear, and massage gums to alleviate pain from new teeth erupting.

Book their first dentist appointment at or before 2 years of age, ideally when their first teeth arrive.
Dental health in children ages 2-6
Maintain healthy brushing habits by brushing 2 times per day, and follow these best tips for dental kids care essentials.

If your child uses a pacifier/dummy, around 2 years old you should start taking it away, as this can lead to malformations in the teeth structure.

Attend dental appointments at least once yearly.
Dental health in children ages 6-12
During this age is when we begin to see the first baby teeth falling out, and the permanent ones begin to appear. With the appearance of permanent teeth, we can also see some fairly common problems such as cavities, bleeding of the gums, and plaque build-up. For all of these reasons it is important to put high emphasis on dental health in children of this age.
Continue brushing teeth twice at least twice daily

Begin using mouthwash that is safe and appropriate for children

Avoid foods that are high in sugar, especially before bed after brushing their teeth

Maintain bi-yearly visits to the dentist for cleaning, plaque removal, necessary x-rays, and evaluation for orthodontics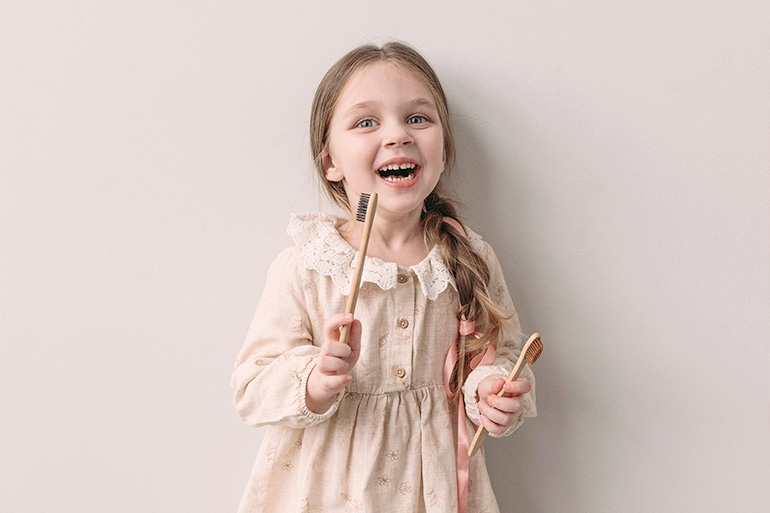 Why children's dental services might be for you…
When you choose children's dental services with Caser Expat Insurance, you're choosing peace of mind. There's no worrying about cavity fillings or expensive procedures that come up because you know that your family's dental and oral health is going to be well taken care of at an affordable rate, no matter what. When you choose to add your children to your dental plan, you're also choosing to model what good self-care looks like for your kids–a skill that will serve them over the course of their entire lives, and set them up for being able to take care charge of their oral health and well-being for years to come. Get in a minute a personalized quotation for you and your little ones by clicking here.