For those who think that Halloween is just another commercial stunt or a recently invented holiday, think again. Although the name is different, Spain has been celebrating Todos los Santos (All Saints Day) for longer than you can ever imagine; so much so that it's a very important 3-day celebration and even national public holiday. Ever wondered where it all started? Read on to find out all about the origins of this festivity as well as the fiestas and special treats you shouldn't miss out on.

Origins
Halloween in Spain dates back to a Celtic festivity known as Samhain, which celebrates the end of the harvest and marks the beginning of winter, or the "darker half" of the year. The ancient Celts believed that the arrival of Samhain brought, good and evil spirits from the other world to roam freely on Earth. Dressing up in costumes and putting on masks helped people scare away and keep the "bad" kind of spirits at bay. Legend has it that in some villages in Galicia and Asturias, back in the 18th century, children went asking for food, from door to door, while carrying lanterns. Ring any bells? Who said trick or treating was invented in the USA?
How is All Saints Day celebrated in Spain?
It kicks off on the 31 October and ends on 1 November, which of course translates into a Spanish puente (it literally means bridge or long bank holiday weekend), when people from all over the country return to their towns to pay homage, to their deceased nearest and dearest at cemeteries. But, as is the case with everything else in Spain, each region has its own take on how to celebrate.
In Barcelona, make sure you set aside some time to visit the city's amazing Montjuic, Poblenou and Les Corts cemeteries. Some offer special night tours and classic music concerts. There are also a range of extravagant Halloween parties held on the night of 31 Octobert. Check out your city guide to see what nightclub or bar will be hosting fiestas, and get your best costume at the ready.
Check out the Ruta de Altares (Route of the Altars), a recent tradition that has more to do with the Mexican counterpart, Día de los Muertos. The public is invited to take a tour of colourfully decorated altars in lots of different themes and located in around 20 bars, restaurants, galleries and shops dotted around the city of Barcelona.
The small village of Sant Feliu Sasserra holds a Witch Festival in honour of the women who were sentenced to death during the Inquisition after being accused of witchcraft. If you end up there, make sure to pop into the small but fascinating Witch Museum.
La Castanyada, celebrated every 1 November since the 18th century only in Cataluña,, is an excellent time to try all sorts of delicacies. We will delve a little further into the traditional Spanish Halloween dishes a little later.
Check out what Time Out has to say about Halloween in Barcelona.
In Madrid
Pub crawls, theme parties, shows and fun activities are organised in Madrid. One of the most popular events is the costume party held in El Círculo de Bellas Artes (Fine Arts Centre) but if you´re looking for a fun family activity, head to any of the amusement parks. Madrid also hosts the Gothic Week (Semana Gótica) during Halloween.
Cemeteries to visit include La Almudena, San Isidro, and Cementerio Inglés.
It might also be worth checking out Extremaunción, the only Halloween-themed restaurant in the capital, which prepares special spooky dinners on 31 October t.
Make sure to check this website out (in Spanish only) to get some inspiration as well as ideas and activities to enjoy in Madrid during the Halloween festivities.

In Cadiz
If you are down south this year, make sure you take part in the Fiesta de Tosantos, celebrated on 31 October. A colourful event full of humour and satire including concerts, street performances and night markets. Plus, there are lots of candle-lit processions all around the province, a true feast for the eyes.
For more info on what's happening in Cadiz this Halloween, check out the City Hall's program here.
In Galicia
Galicia and Asturias, more than any other province in Spain, have important ties to Halloween. Their rich folklore surrounding Halloween includes Noite dos Calacús (Night of the Pumpkins), which is celebrated with a range of activities such as pumpkin carving, bonfires and costume parties. Sounds fun, right? Check out our post on road trips to take around Galicia and see if you can catch some Halloween festivities.
In Malaga
In Malaga, take part in the annual Zombie Walk, where herds of the "undead" take to the streets and march from one cemetery to the next, all of which are beautifully decorated.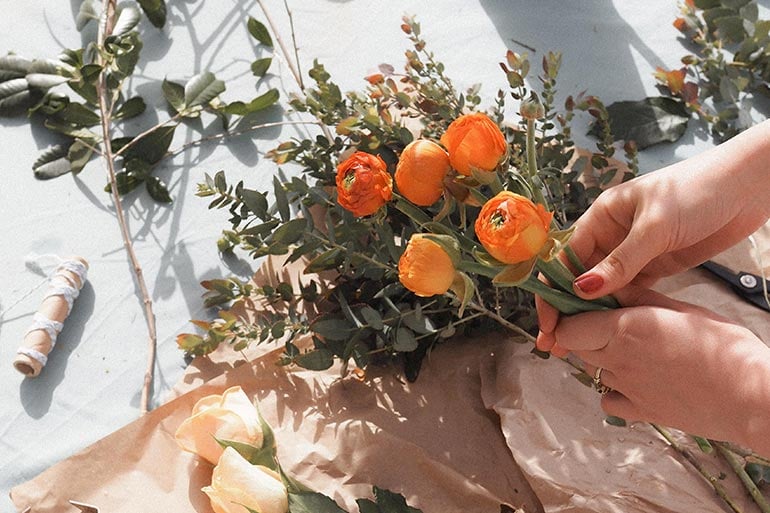 Delicious Spanish Halloween Treats
There are plenty of special dishes made specifically during All Saints Day. Depending on where you are, you´ll be able to enjoy certain delicacies that are only available during Halloween season such as roasted chestnuts, almond cakes and the famous huesos de santo (Saint bones), made with marzipan, eggs and syrup. Another sweet treat is Buñuelos, which are a sort of a soft doughnut sprinkled with cinnamon.
Specifically in Cataluña, you can find roasted sweet potatoes, meanwhile Galicia is famous for its queimada, a strong alcoholic drink served hot and made with liquor, coffee, sugar and lemon or orange peels. If you're organising a Halloween-themed party this year and fancy conjuring up a traditional Galician queimada, follow this recipe (in Spanish) and surprise your friends with a cauldron filled with this tasty treat.
Well? Lots of new info to take in, right? Although we hope you've enjoyed discovering the true origins of All Saints Day and its link with what is known today as Halloween. One thing's for sure - the celebrations in Spain are so varied depending on the region, so it's the perfect excuse for you to explore the country and take part in the local traditions. Have a fun and spooky time!