Many people that visit Seville for the first time say that it is one of the most beautiful places they've ever seen. Not long ago, we heard someone say this: "I've visited many big cities, New York, Rio de Janeiro, Istanbul, Barcelona, Punta Cana, but the one that actually stole my heart was Seville."
No wonder there's a famous song with lyrics saying that the world fell in love with this city because of its unique personality, warmth and traditional fairs.
If you're living in Spain but you've never visited the heart of Andalusia, check out our mini guide to Seville with our top 6 must-dos in one day:
1. Orange Wine
We recently posted the typical Spanish breakfast that you should try to feel like a local in your new town, so after you read it, the second thing on your list should be to drink one glass of orange wine with any tapa the barman serves you. When that delicious wine touches your tongue, you will know that your trip has begun.
As you walk through the streets of Seville you will find yourself surrounded by hundreds of orange trees guiding you to try one of the most traditional drinks of the region. Start with only one cup - that will be more than enough to continue your journey.
2. Real Alcázar
As one of the oldest palaces in the world, it's a true gem smack back in the centre of the city. This treasure marks the history of Seville and it's the perfect wonder to kickstart your day.
After you step inside the garden, switch off any mobiles or devices that will distract you from its beauty. Using your eyes, mind and heart will give you the sensation that you're actually living in another era. Take in the beauty of the infrastructure, the floors, the walls, the several hedge mazes and the romantic atmosphere of all the hidden secrets that are still alive in every step you take.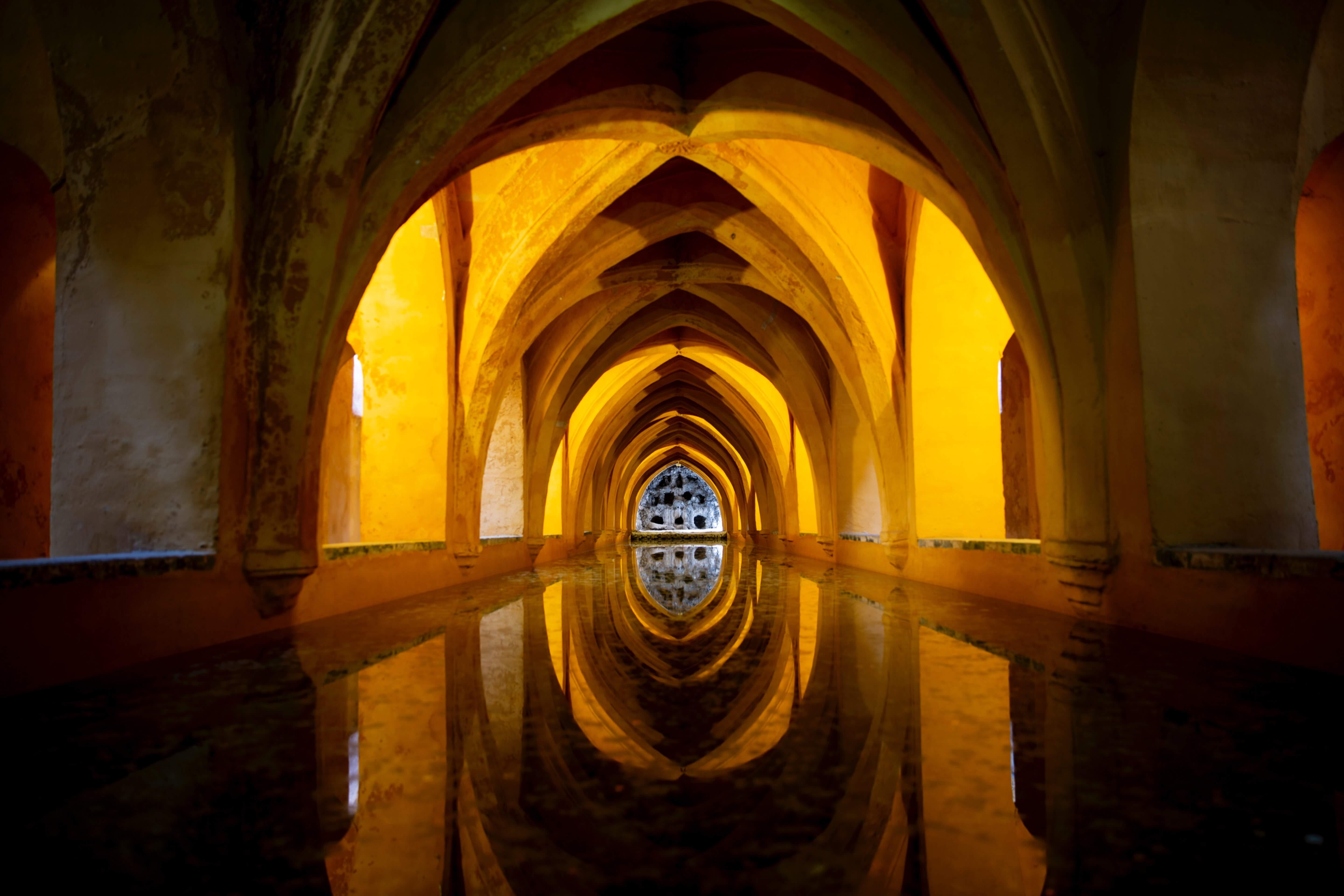 3. Get Lost
There's no better feeling in the world than getting lost on purpose, and yet there is one way to make it even more perfect.
After 3 hours of feeling like Spanish royalty in the gardens of the Real Alcazar, rent a bike for only 3-5 euros per hour and explore the city. You'll be able to cover most of the city in a short space of time, which will also help you become familiarised with the streets for when you go exploring on foot.
Get lost on the narrow streets of Seville's downtown, let the vibe of the city guide you and don't be afraid to be adventurous.
We recommend starting from the "Espacio Metropol Parasol" and making your way towards Maria Luisa Park.
4. Plaza de España
It's time for lunch, and now that you're in the park, take in the surrounding nature and indulge in a picnic. If you want to feel like you're part of town, grab a "barra de pan" with the best "jamón ibérico" you can find (that's within your budget, of course)..
In Maria Luisa park you can find many incredible things that make this place the green lung of Seville. But all the little streets lead you to Plaza de España, a huge square with a beautiful fountain in the middle, and a tiny canal that borders the entire "plaza" where you can have a romantic ride in a little boat.
There's many pictures of this special spot, but none actually truly reflect what this square looks like. It's the same feeling you have when you visit the Eiffel Tower in Paris for the first time; you've seen countless photographs but when you are in front of it, you are stunned by not only its beauty but also the sheer size of it.
Spend all the hours you need discovering the legends that are written on the square walls. Take your time and if your trip needs to be cut short for whatever reason, come back as many times you can, as there's always something new to find.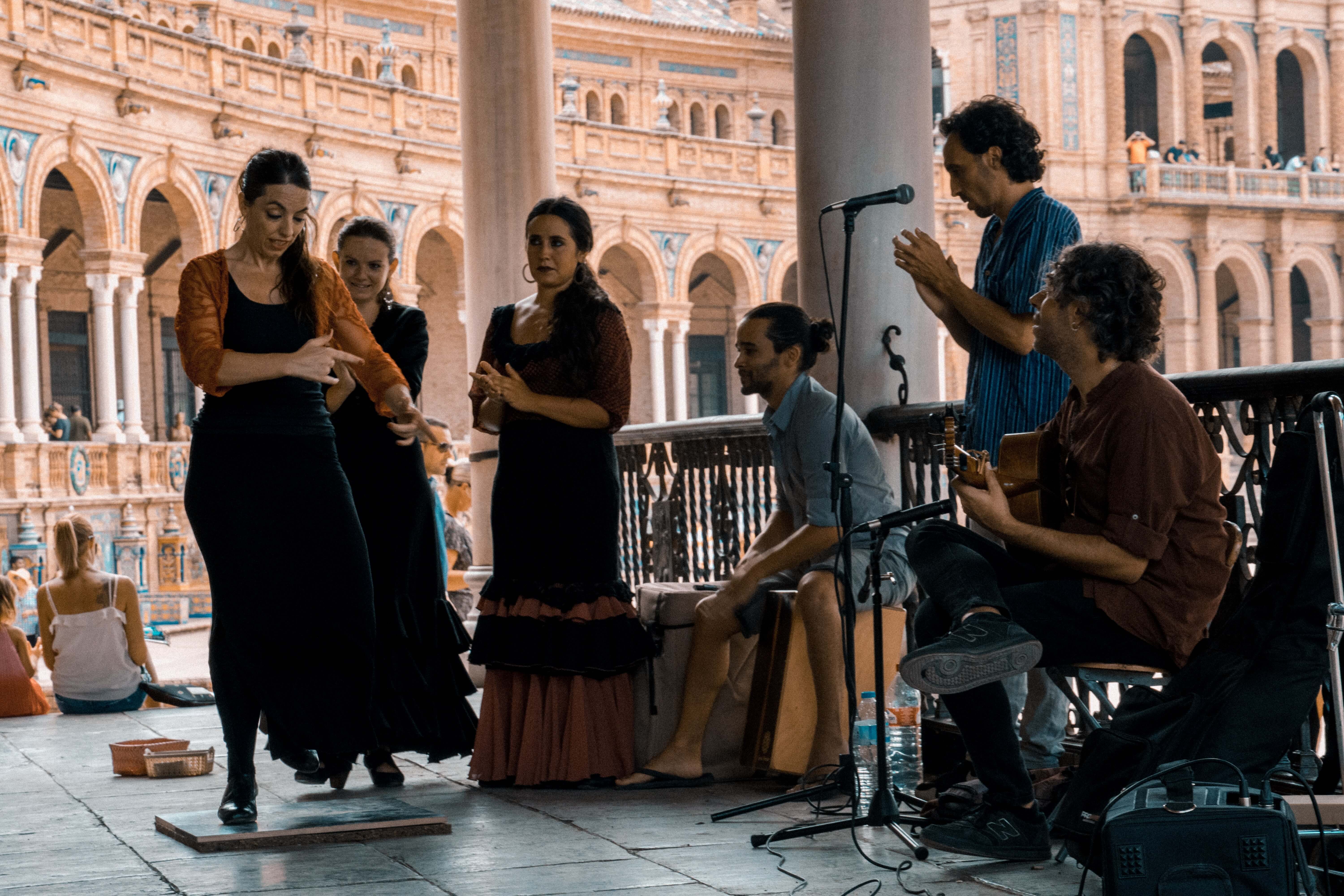 5. Sevillanas
After a long day of exercise and being astonished by all the sights from earlier, it's time to go downtown and find a local bar to have a proper Spanish dinner with a large beer or a glass of wine.
If there's any energy left, find a peaceful spot and enjoy the Sevillanas. This is the traditional local music and dance from Andalusia. We suggest looking for a local tavern, not a typical tourist theatre with only one show and nothing else. We guarantee you'll end up clapping along with the rhythm of the music without even noticing. This can also be witnessed at the region's many ferias.
6. Semana Santa
If there's one thing that Seville is renowned for, it's Semana Santa (Holy Week). The celebration in the Andalusian city dates back as far as the 16th century and entails a range of traditions. From street processions with huge statues and elaborate floats that represent images from the Passion of the Christ, to traditional dress, including the white robes and pointed hoods worn by the Nazarenos and the beautiful lace veils worn by women - it really is a true feast for the eyes. The festivities take place during the week running up to Easter Sunday, so if you're planning on visiting around that time, take part and enjoy!
This is our Guide to Seville with our top 6 must-do's in one day. If you're interested in the cost of living in Seville and other Spanish cities, download the free guide: