My happy place is a one-road-in, one-road-out kind of place in the Sierra Norte of Sevilla. Nestled between the oak groves that straddle the autonomous regions of Andalusia and Extremadura, this little-known and seldom-transited part of Spain is home to a town of some 600 people - smaller than my high school graduating class.
Although it's not well known, San Nicolás del Puerto packs a lot of punch. My husband, whose paternal grandparents were born here, jokes that there are more bars per capita than my humble suburb of 55,000 outside of Chicago. I joke that there are more pigs per capita than my town, too (and I am a born and bred Midwesterner).
Sitting about 100 kilometers north of the provincial capital, San Nicolás is often overshadowed by Constantina and Cazalla de la Sierra. Its people - known as maruchos - are extremely proud of their village and its gastronomic and outdoor offerings.
Eating and Drinking in the Sierra Norte of Sevilla
The Sierra Norte de Sevilla, a protected natural space that spans the entire northern reaches of the province, is known for its carne de caza, or game meat, as well as its production of pork. Acorn-fed pata negra pigs are fattened up before slaughter at age three and only feast on acorns, giving them a soft, buttery taste. Thanks to my father-in-law's insistence on eating every part of the pig, I've learned to love pig cheek (carrillada), cured meats (embutidos) and fried bread crumbs (migas). But my favorite? Caldereta de venao, a tasty veal stew.
If you can, try the restaurant at the Batán de las Monjas campsite, located three kilometers from town. Head chef Jesús has trained around the world and brings a global vision to traditional dishes. El Martinete is another option and within walking distance of town. If you're in the center, have a beer and a free tapa at Bar Loli and grab a bite at La Plaza, which has an abundant menu and enormous plates of food, meant to be shared.
After coffee, many head back to Loli or to Popeye for a glass of crema de guindas, a liquer made from pressed wild berries and served in a short, round glass with an ice cube.
Things to see
The privileged Sierra Norte means that San Nicolás has a disproportionately large number of natural sites to see.
The Nacimiento del Huéznar, an underground spring from which the mountain river Huéznar flows, is the first site when you enter the town from Constantina. From here, the river trickles downhill until it reaches the commanding Cascadas del Huéznar, classified as a Monumental Natural por la Junta de Andalucía and a Biosphere Reserve under UNESCO protection. It's a perfect spot for a dip and is easily one of the most beautiful sites in all of the Sierra Norte of Sevilla.
Just three kilometers south of San Nicolás back towards Constantina and along the Via Verde bike route, Cerro del Hierro rises up from the valley. This space-like karstic rock formation has hiking trails and rappel walls, and was once exploited as a mine.
Within the town itself, you can visit the Iglesia de San Sebastián, a mudéjar-style church where Saint Diego's baptismal fountain can be found, or the artificial beach with its reconstructed Roman bridge.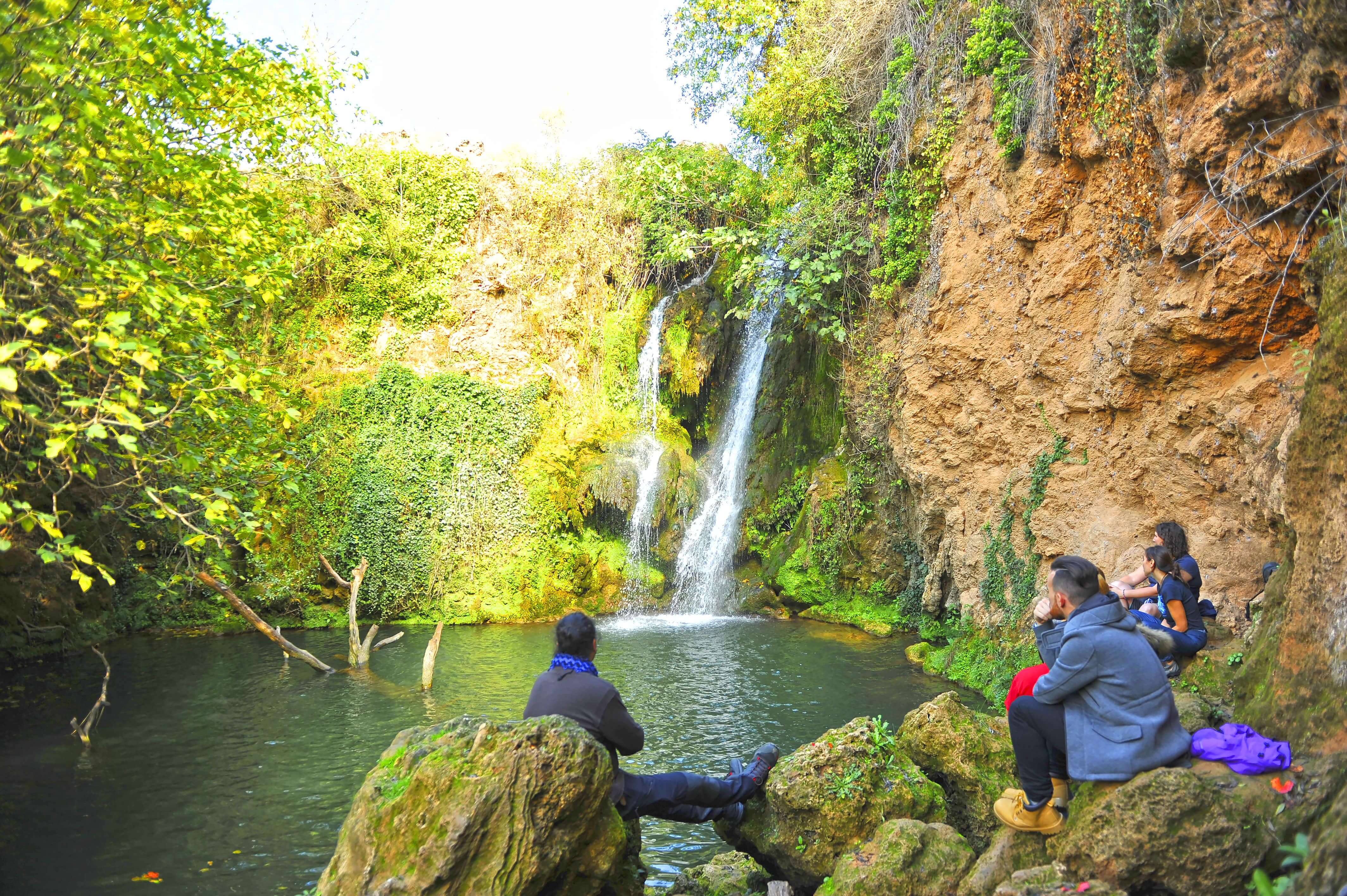 Things to do
The best time to visit San Nicolás is in the summer for its festivals and man-made beach, although the fall is the ideal season for hiking and cozy comfort food.
The population of San Nicolás swells at the weekend, particularly in the summer and fall months as families escape the city. You can rent bikes and cycle the Via Verde, a converted train that passes through San Nicolás, Constantina and Cazalla de la Sierra in its 20 kilometer itinerary.
There are also a number of campsites in the area, like Batán de las Monjas and El Martinete, both anchoring the Cascadas del Huéznar and housing bungalows and surprisingly good restaurants.
San Nicolás regularly shows up on the news - both regionally and nationally - for its somewhat offbeat festivals, like the Noche del Terror, or Terror Night. Each July, its citizens transform the hills and woods into a sort of outdoor haunted house that draws around 8,000 people! They also host a short film festival in the fall. The local Romería de San Diego on the second Sunday of May draws a number of maruchos who have since moved to larger cities for work, and includes a procession and a huge outdoor picnic at the Ermita de San Diego.
For more information, the town's local website has a number of resources and links to outdoor and cultural activities.
The first time my then-boyfriend took me to San Nicolás, it was mid-December and the celebration of Santa Bárbara, one of the city's patron saints. Alleyways were blocked off by makeshift bars as people drank coffee with a kick to stay warm. "Illo, Diego!", they'd shout at neighbors and friends, citing the name of Fray Diego de Alcalá, a Catholic saint born and baptized in this humble little hamlet.
Since then, we've celebrated weddings and baptisms in San Nicolás, introduced my very American parents to a very Spanish town and even brought our infant to the house where generations of maruchos lived before he ever came to be. Any time we're in town, we stop by my in-laws' farm to see the baby animals and have a coffee at Bar Loli. Although my infant son has already made a visit to the farm and to nearby Constantina to see his great-great aunt, I'm looking forward to watching him splash around in the Huéznar as a kid and eventually bring his own children to San Nicolás.