"Spain is different" is usually a polite way to depict how unusual, unique and perhaps how charmingly backward it is compared to other civilized countries around the globe. That said, Spain has come a long way and among many of the things to enjoy in the country is its efficient transportation system, which could very well serve as a model for others, including the United States. Spain is not only a major transportation hub for Europe, Africa and the Americas, but it also offers a first-class network of highways, domestic flights and high-speed trains which makes traveling that much easier.
Best-connected airports in Spain to consider for your next trip
Adolfo Suarez- Barajas Madrid Airport
There are international flights available from practically every large city in Spain. Madrid Barajas, recently (in 2014) renamed Adolfo Suarez- Barajas Madrid catered to almost 62 million passengers in 2019 and is considered one of the busiest airports in Spain, depending on the season, and without a doubt one of the Europe's airports with the highest footfall. The new termina 4, built in 2006 by British architect Richard Rodgers, is only 13 kilometres away from the city centre, offering fast and easy connection whether by taxi, the express airport shuttle, local public buses and even the city's metro, one of the world's best underground networks. As of today, there are some 75 airline companies that operate from the 4 terminals in Madrid's airport, providing flights to 182 destinations in 68 different countries with a total of 336 scheduled routes. It's hard to get better than that, right?
El Prat de Llobregat Barcelona Airport
The second-largest of the long list of airports in Spain is El Prat de Llobregat in Barcelona, 12 kilometres southwest of the city. It has 2 large terminals and offers flights to 131 destinations operated by 59 airline companies. Pretty impressive, right? Accessing the airport is pretty straightforward too – you can get there from the city by local public buses, taxis, of course, and the aerobus, which runs a frequent service with buses departing every 5 minutes. If you need to travel to Madrid on a regular bases, you can hop on the Air Bridge, or Puente, considered the busiest air corridor in the world. Another option, hassle-free – is taking the comfortable high-speed AVE train, which takes less than two and a half hours.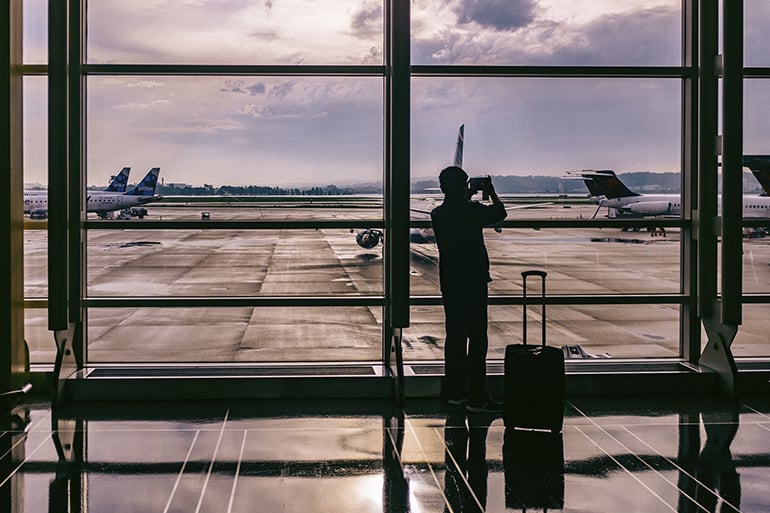 Palma de Mallorca Airport
Palma de Mallorca is the third busiest international hub in Spain and legend has it that during the summer months, it's one of the busiest in the world, catering to 23 million incoming and outgoing passengers in total. Read all about how to get there from the city centre and the airlines it services right here.
Palma de Gran Canaria Airport
The Canary Islands, on the west coast of Africa, is made up of the islands of La Gomera, Hierro, Gran Canaria, Fuerteventura, Tenerife, La Palma and Lanzarote, all of which have their own local airports, But Palma de Gran Canaria is the only international hub, offering direct flights to 121 destinations in 24 countries, from Iceland and Poland to other countries a little closer to home including France and Portugal.
To travel in between island, check out this website that offers information and booking services for internal ferries.
Don't forget, if you are a Spanish or European Union citizen or a citizen of another European member state and you can prove that you reside in the Balearic Islands or the Canary Island, including the cities of Melilla or Ceuta, you are entitled to a considerable discount when traveling to other parts of Spain. When you book your flight, make sure you select the "Residentes" option during the process. And bring along your Resident Car (NIE) as well as a certificate of residency, available at your local Town or City Hall, when you check in. Have a large family? You'll be happy to know you are entitled to an extra discount on top.
Málaga-Costa del Sol Airport
The Málaga-Costa del Sol Airport is the fourth busiest of all airports in Spain after Madrid-Barajas, Barcelona and Palma de Mallorca. Just 8 kilometres away from the city centre, this airport connects flights to over 50 countries all over the world and saw just over 5 million passengers in 2020. This figure, albeit super high, represents a decrease of 74% compared to 2019 (just under 20 million passengers), taking a hit due to the pandemic and global travel restrictions. You can get there by taxi, an express bus or the cercanías (the city's internal) train system. If you need to get to Madrid or Barcelona from Malaga, the best alternative is the high-speed rail network (AVE).
Valencia Airport
Valencia Airport is located eight kilometers to the west of the city, provides flights to over 15 European countries and moves about 5 million passengers a year. Check their website to discover how to get there by taxi, bus or the metro line. The AVE also connects Valencia to the capital of Madrid in just under 2 hours and a half.
Bilbao Airport
If you fancy visiting the north of the country and are looking to find an airport in a city with excellent transportation links with the rest of Spain, a solid option is Bilbao Airport. Located just 12 kilometres away from the city of Bilbao, it is the 14 busiest airports in Spain, having received just under 1.7 million travellers in 2020, according to AENA. It can be reached by taxi, bus, car, and soon by the underground metro system, a project that is currently underway. As well as plenty of internal flights, the airport offers direct flights to lots of European countries, including the Netherlands, France, Ireland and Germany.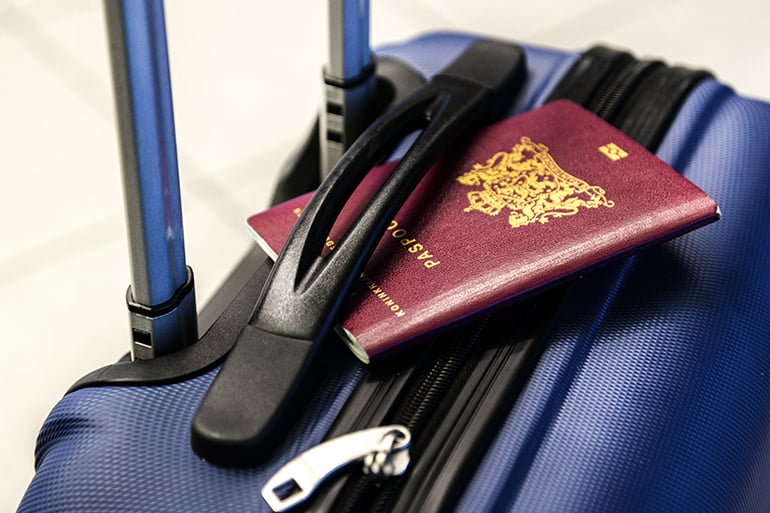 As expats living far from home and all our go-to comforts, amidst the loneliness that can sometimes bear its head we often pine for a visit home to see friends and family, so having access to stellar transport links is an absolute must. Thank goodness we chose Spain as our new home then, right? Were you aware that getting to and from Spain as well as traveling within the country was so easy? If you don't already have health insurance with global medical assistance for travelling, check out the different options available at Caser.