In Spain, the terraza season has just started. The sun is out, tourists are starting to fill the streets, shorts galore, flip-flops, sunglasses … Who would've thought that you could be chilling on the beach and taking a dip in the sea in the middle of April? Not bad, right?
Some say that spring is the time of the year when Spaniards begin to plan their summer vacations, but it's also an ideal time to really make the most of the weekends and the good weather for little getaways.
If you're looking to plan a mini trip, but are stuck for ideas, here are a few places to visit in spring in Spain:
Sant Jordi in Barcelona
Imagine a festival combining a love of books and roses? Well, that's Sant Jordi. You can visit one of the most original celebrations in Barcelona, when the streets become filled with roses, book stands and a whole lot of love. Almost overnight, Catalonia transforms into a romantic, festive and truly joyous place, and it also happens to be World Book Day.
Sant Jordi (Saint George) has been the patron saint of Catalonia since 1094, and legend has it that he saved his princess from a dragon whose blood sprouted a rose bush. In turn, in honour of his valiant efforts, Sant Jordi has become the unofficial patron of lovers. Nowadays, every 23 April, people take to the streets to follow a curious popular tradition, where couples exchange gifts; in the past, men used to receive books and women were given roses, but aside from perhaps older generations, it's now common for people to give and receive either or, or both, regardless of their sex...
Don't worry if you're somewhat lacking on the lover front - as with most traditions, this one has evolved and is also a time for family and friends to come together and celebrate. In fact, some parents actually give their sons and daughters books and roses. ¡Viva el amor… in all its forms!
Córdoba Flower Patios
In May, the charming city of Córdoba is a perfect spot to visit and immerse yourself in its famous and colourful fiestas. A particularly special characteristic of Córdoba is its wide range of flowered courtyards. In fact, for two weeks in May, around 50 private beautifully landscaped courtyards take part in the Concurso de los Patios, competing for the top spot. Tourists from far and wide flock every year to what has now become one of UNESCO's Intangible Cultural Heritage sites, taking in the unique scent of jasmine and orange blossom.
You can also marvel at the parade of floats decorated with flowers in the middle of the streets of Córdoba while sipping on some local wine. Let's see if you can catch any of the 150,000 carnations that are thrown out to the crowds of onlookers.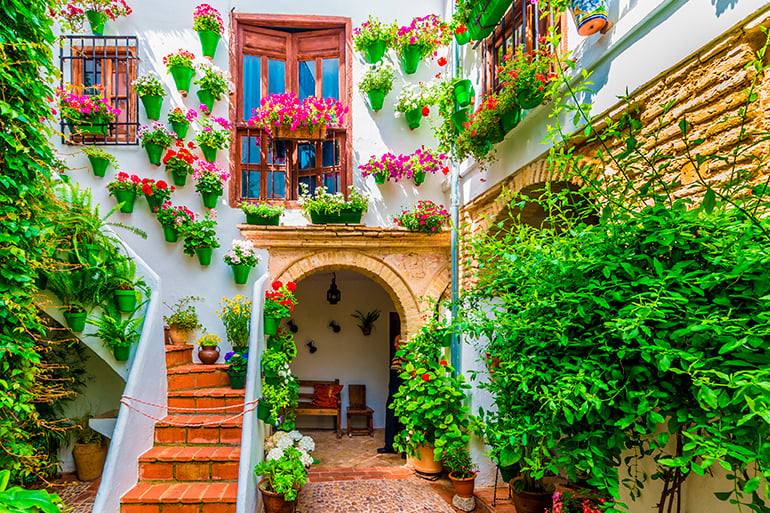 White Towns of Cádiz
Cádiz, in the autonomous region of Andalusia, is a stunning place to visit at any time of the year, but spring tends to be the best season to visit simply because there are not too many tourists and the temperatures are not that high.
If you plan your weekend well, you can immerse yourself in its nature and soak up the beauty of the mountains, with 19 small white villages, including the charming towns of Grazalema, Arcos de la Frontera and Zahara de la Sierra, among others. Who fancies a road trip? If you've got the time and resources, why not try and squeeze them all in on this recommended route.
Asturias, the Legendary North
Among Spain's oldest natural parks, you will find the Lakes of Covadonga. You will need to follow a charming path to get there, and step by step you will find out a bit more about the beauty that's just around the corner.
This spot includes Lake Enol and Lake Ercina, which are separated by the knoll known as La Picota and which make up one of the most mythical enclaves in Asturias. The stunning mountains that surround the lakes will take your breath away, and you will witness one of the most majestic places in Spain, where the mountains are reflected on the water of the lakes. Get your cameras ready - it's truly spectacular.
Want to take the ultimate trip across Northern Spain? Include Galicia in your travels! Learn everything you need to know if this Galicia guide.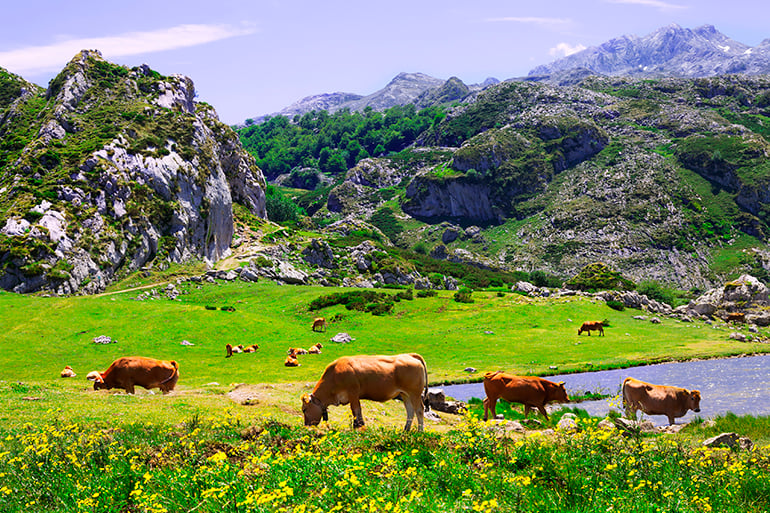 The Wild Wild...Almeria
Ever heard of the westerns 'The Good, The Bad and The Ugly' or 'Lawrence of Arabia'? Well, it just so happens that they were shot in the province of Almeria in Andalusia. Yep, you read it right. Hollywood on your doorstep. The Tabernas Desert, which stretches a whopping 280 km, has been the backdrop for lots of famous spaghetti westerns, and you can get a glimpse into the wild wild west by visiting the province this spring.
Although Almeria is famed for its blazing hot and humid summer, it's perfect for a weekend getaway at this time of the year, with average temperatures of around 23 degrees in April and May. If you rate yourself somewhat of a film buff and fancy reliving some iconic movie scenes, check out the 3 film sets that have been turned into super cool tourist attractions. Aside from the western genre, Almeria has also appeared in a little known series you might have heard of… Game of Thrones, among others. And there's even a map you can download with a route that takes you around some famous spots.
Don't you find it incredible that we can sometimes forget how varied a country Spain is in more ways than one? As expats, it's easy to find ourselves in a little bubble in our new town or city, searching for a replacement for our home town, but when you finally sit back and take in the astonishingly varied culture and landscape that Spain has to offer, it is truly mind blowing and makes you feel incredibly lucky. From the green mountains of the north, to the culture of Catalonia, all the way to the sandy desert of Almeria in the south, Spain really does it have it all.
Where are you planning to travel at this time of the year? Let us know if you have any favourite Spanish places to visit in spring. While you're here, check out the following post on weekend getaways for more cool ideas. And while you're travelling, discover all the regional meals in each area: