Valencia is a dog friendly city and lots of people have dogs here. In this Guide to Valencia for dog lovers I will tell you all about where I take my dog and what is allowed and what not. Most people in Valencia city live in an apartment and do not have private gardens. That makes public parks and spaces accessible for dogs very important.
Restaurants
Dogs are not allowed in most restaurants, but you can take them along when you are planning to sit outside on a terrace. As long as the dog is well-behaved, they are allowed even if they serve food. There are some restaurants and bars that do allow dogs also inside:
Ubik Café (Calle Literato Azorin 13)
La Fábrica de Huellas (Calle Turia 60)
Mar d'Amura (Calle Progreso 159)
Snack Attack (Plaza Escolania de Mare deu)
Malaquita (Calle Turia 52)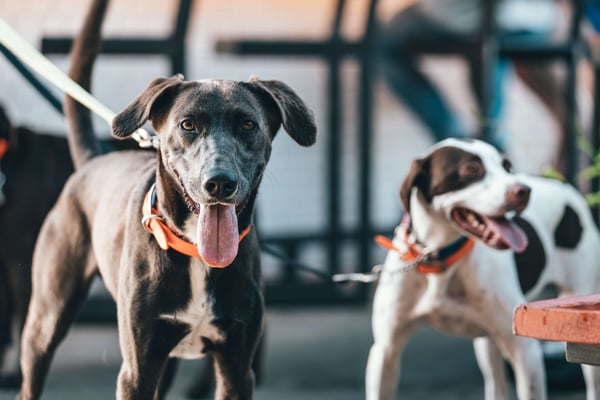 Public transport
Small dogs are allowed on public transportation. The bus, train, metro and tram only allow guide dogs and small dogs up to 10 kg in a bench. For the EMT bus you need a special personalized card for the dog.
Hotels
There are several hotels that allow dogs of all sizes, for example, the 5-star hotel, The Westin. The dogs will be pampered with special dog beds, dog food and a walking service.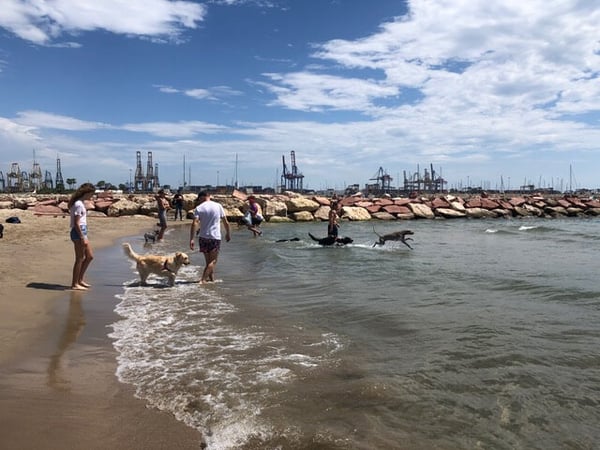 Beaches
There are special beaches for dogs called 'playas caninas'. In Pinedo, just south of the port of Valencia is a beach where dogs can swim and run with other dogs from 9:30 till 19:30. When you enter the beach, the dogs chip is checked, there is fresh water for the dogs to drink and to use afterwards to clean them. Also, north of Valencia at Portsaplaya is a beach where your dog can run and swim freely. If you're looking for other dog-friendly beaches around Spain, check out this post.
Parks
In most parks they allow dogs. In the almost 10-kilometer Turia park dogs are allowed everywhere. You need to pick up the dog poop, of course, and the dog needs to be on a leash. The Turia park has also special fenced areas where dogs can run freely and play with other dogs. These areas have water fountains and benches for the dog owners.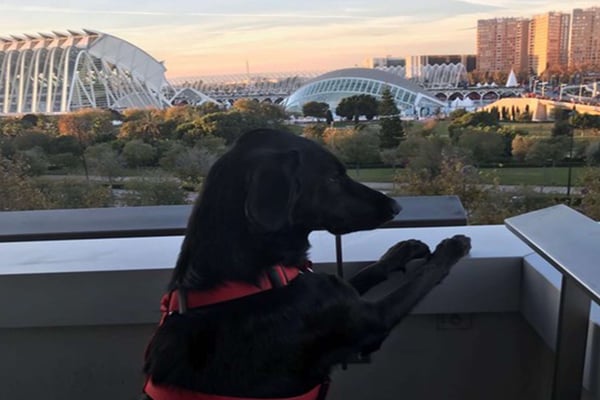 Pipper on Tour is promoting traveling with dogs in Spain. This little dog Pipper is having all kinds of adventures all around Spain. He was also in Valencia and they made a beautiful little promoting video of this dogs visiting the dog friendly spots in the Comunidad Valenciana.
I hope you like this guide to Valencia and I hope you have a great time with your dog.