Climbing in Spain equals infinite possibilities. The sport is hugely popular here, mainly because of the tremendous amount of areas the country has to offer, most of them with their own unique characteristics regarding surroundings, rock type, atmosphere, other activities available close by, culinary traditions….
If you are a beginner rock climber, the wisest choice is to discover the best outdoor locations around Spain with an experienced guide like Olé Outdoor. If you're based in Madrid, travel just one hour by car to the best climbing areas in the Madrid region and Sierra de Guadarrama National Park. Read below to learn about the materials needed for rock climbing and the best climbing spots around Spain.
Materials to begin climbing in Spain
Harness
Shoes
Comfortable sports clothing
Rock climbing around Madrid
Keeping things nice and close to the Spanish capital, let's start off with what we can find in the area of Madrid… Madrid and the Sierra de Guadarrama National Park are unknown paradises for climbers. 5-stars rock climbing spots like La Pedriza, Patones, la Cabrera, and many other crags (a steep or rugged cliff or rock face) offer more than 4,000 climbing routes on granite and limestone.
Around 50 miles to the north of Madrid there are two excellent rock climbing areas; the granite slabs at La Pedriza; and the steep limestone at Patones. Further west of Madrid are the excellent granite towers of the Gredos mountain range where there are many multi-pitch routes.
Patones
Patones is located near the village of Torrelaguna. The rock climbing here is all about steep single pitch ("pitch" = rope length) sport routes on excellent limestone rock. The style of the rock climbing is everything from pocketed vertical walls to huge roofs. Here there are around 800 routes, which are spread over five main crags (the largest being Ponton de la Oliva).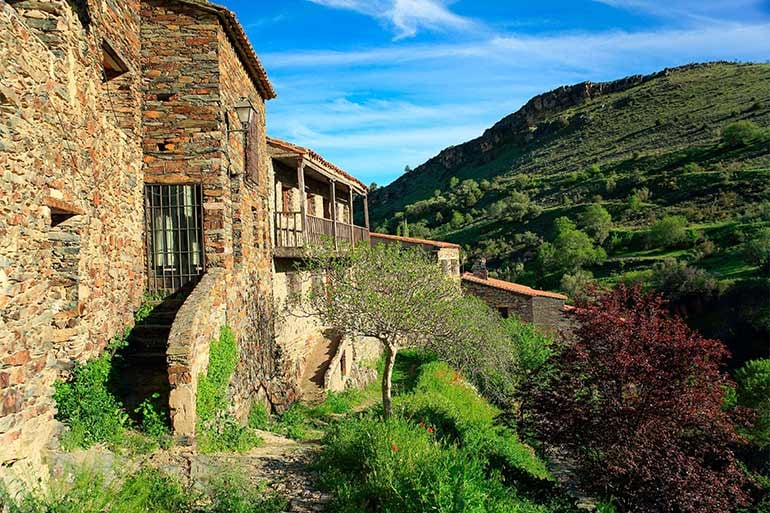 La Pedriza
La Pedriza is located just north of the village of Manzanares El Real. In this absolute climbing and outdoor sports paradise everything is granite, which requires an elegant combination of precise footwork and balance. The scope of the slab climbing is huge with a mixture of sports and traditional routes, ranging from single pitch to multi-pitch routes over 200m long across a wide grade range.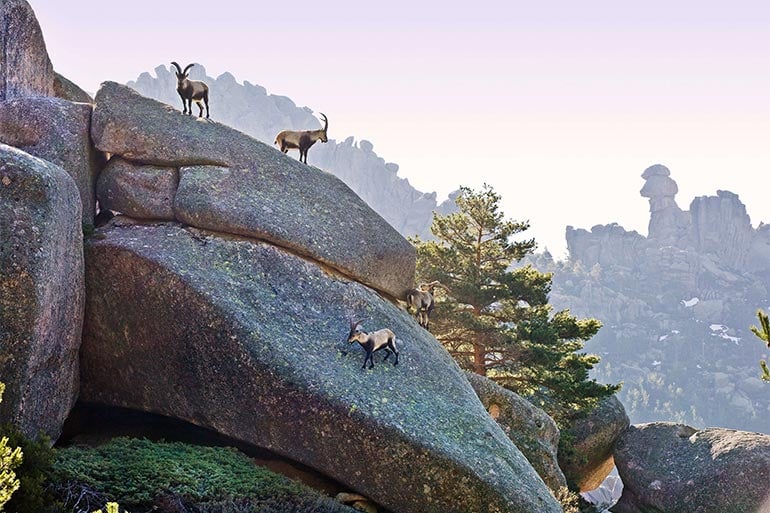 Sierra de Gredos
The mountains of the Sierra de Gredos are a vast area stretching for around 140km to the west of Madrid. The climbing here is characterized by a maze of around 40 granite spires, providing alpine style multi-pitch climbing at altitudes of over 2,000m. The quality of the granite rock is excellent, with plenty of classic routes across a wide range of grades. The climbing style is pure traditional climbing with the occasional belays equipped with bolts, slings or old pitons. This implies a certain level of experience is required. So either you can rely on your own, if you have any, or go ahead and go with a guide.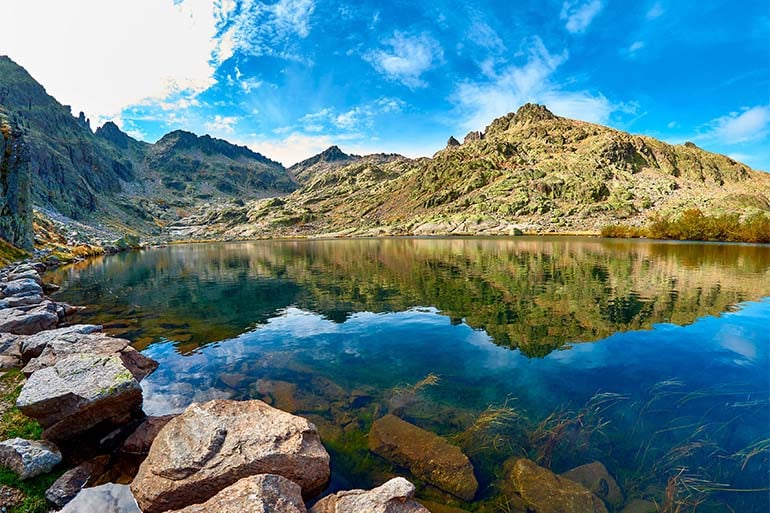 Bouldering around Madrid
Bouldering is a climbing discipline where no rope is required (or wanted). You simply hang your "crash pad" on your back, head into the rocks and pick yours to battle. You could compare the difference between rope climbing and bouldering with the distinction between running a 10k or half marathon or a 100-400m sprint. Originally climbers simply went bouldering to train for their rope objectives, gaining strength and/or technique.
Madrid's premier bouldering venues are at La Pedriza and Zarzalejo. The latter is tiny village is located to the west of Madrid, near San Lorenzo de El Escorial. The style of bouldering at Zarzalejo is on weathered granite rock that offers everything from overhanging and vertical steep walls to slabs with lots of crimps and slopers. In general only 1 bouldering mat is required as the landing are usually very good. Currently there are around 650 problems across a wide range of grades that are documented.
Major Rock Climbing Areas Around Madrid

No.

Crag Name

Altitude

Type of Rock

Single or Multi-pitch

Max Route Length

1

Patones

N/N

Limestone

Mainly single

40m

2

La Cabrera

1,520m

Granite

Both

215m

3

La Pedriza

1,073m

Granite

Both

200m

4

El Boalo

1,437m

Granite

Both

110m

5

Sierra de Gredos

2,000m+

Granite

Both

300m

6

Zarzalejo

N/N

Granite

Bouldering

8m
Other spots for climbing in Spain
With perfect climbing conditions from autumn through to spring, Spain has become Europe's premier winter sun rock venue. There are many rock climbing areas within Spain, with new areas being developed all the time. Many of the more popular and established crags are located close to the main tourist areas and coastal Cities.
Costa Blanca
The area around Costa Blanca typifies the superb rock climbing on perfect limestone rock that is found in many areas of Spain. There is everything from bolted routes a few minutes' walk from the car.
El Chorro
El Chorro in the Southern area of Andalucía offers fantastic multi-pitch gorge rock climbing, along with good quality single pitch sport routes. Also within Andalucía there are other great rock climbing areas around Malaga and Granada.
Balearic Islands
The Balearic Islands of Mallorca, Ibiza and Menorca are popular holiday locations with plenty of interesting climbing. Mallorca has for a long time been established as one of Europe's premier rock climbing and sports climbing venues, with many excellent 1 & 2-pitch routes on limestone rock. Also in the last few years Mallorca has become a top European venue for Deep Water Soloing (DWS). Ibiza offers a wide range of rock climbing and sports climbing on sharp limestone rock.
Canary Islands
The Canary Islands are also popular rock climbing venues, especially on Tenerife and Gran Canary. Tenerife is the largest of the Canary Islands and it also offers the most extensive and best rock climbing, sport climbing and bouldering of the area. Gran Canary also has a good range of climbing with both sport climbing and traditional climbing widely available.
Catalonia
Barcelona and Catalonia are recognized as one of the finest sport climbing venues in Europe, with many top-class venues. Choose from venues such as Siurana; Sierra de Prades (in Costa Daurada); the towers of conglomerate mountain rock overlooking the ancient monastery at Montserrat; excellent limestone cliffs near Lleida such as Terradets; to mountain granite of Cavellers in the Pyrenees. In the foothills of the Pyrenees are many excellent limestone crags such as Sadernes, Montgrony, Rodellar and Riglos.
Albarracín
The premier bouldering venue in Spain is Albarracín, with its huge ancient sandstone blocks situated within a pine forest. There are a variety of problems to climb from quality slabs, amazing arêtes, overhanging walls on crimps and cracks, to huge roofs.
Northern Spain
In northern Spain, just south of Santander are the Picos de Europe, where there are many multi-pitch routes. Also south of Santander there are some bouldering areas with the largest being the sandstone area of Santa Gadea. There are also many limestone sport crags around the cities of Oviedo (near Gijon) and Leon, with routes to suit climbers of all abilities. Etxauri is the largest crag in the Basque area with over 800 routes, but is only one of many excellent crags in this area.
For all beginner rock climbers in Spain, check out Olé Outdoors' Initiation Course.
For more information on the best sites to go climbing in Spain, as well as detailed information on the materials and equipment you need to start, check out Typical Non Spanish's free guide: