Let's be honest, native English speakers have it easy when it comes to travelling or living in foreign places, and we should count ourselves lucky that the world is filled with people who speak our language. But just because we can get by and find English speakers to help us when we are abroad doesn't mean we shouldn't try to learn a foreign language so that we can speak the lingo with the locals.
I admit that getting to grips with learning another language can be daunting, but it can also be a lot of fun, and it opens up so many opportunities both socially and professionally.
I personally came to Spain with no prior knowledge of Spanish, apart from the obvious polite greetings like hola, gracias and adios, so I have first-hand experience of how overwhelming it can be, but don't fear, here are my top tips for learning Spanish so that you can really embrace the culture, and make the most of life in Spain.
Take classes or do a course
Enrolling at a local academy or language school is the most obvious step, and has many advantages for learners. There are a multitude of different places, courses and options to choose from, and academies offer group classes of different levels, from complete beginners, through to advanced, so they will be able to help you, whatever your level. Academy teachers are trained to help you in the most constructive way, and they will use relevant resources to gradually build your vocabulary, knowledge of grammar, and confidence.
The added advantage is that, even if you don't really want to go "back to school", joining a group class will help you to meet other people who are in the same boat and not only have the same objectives, but also understand what you´re going through.
There are many language schools to choose from, so I would recommend that you use Google maps to search for ´Spanish classes´ in your area, as the closer it is to your home the more likely you are to attend classes, plus the travel time you save you can use to do your homework!
Shop around and see what the options and prices are. I would highly recommend starting with an intensive course if you can, as this really does help you to feel you are advancing at the start, and going a few times a week gets you into a routine and rhythm, and helps with information retention. The more time between classes the more likely you are to forget the lingo from the previous one!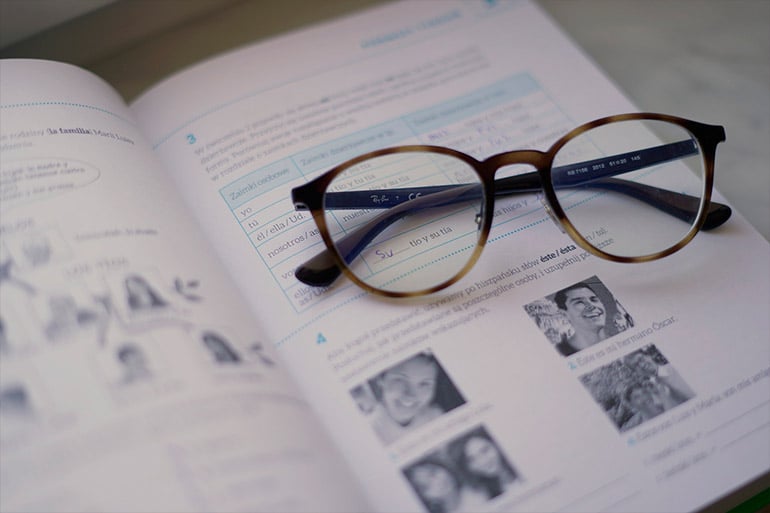 Sign up for a language app
Another tip for learning Spanish is to put your laptop and mobile phone to good use, and instead of scrolling through social media, download one of the many language learning apps that are available in the app store. These are a fantastic tool to learn and practice as you always have them to hand, whether you´re travelling on public transport, chilling in the park, or sitting on the sofa.
The other benefit is there are a lot of options available and many are free, so you can try different ones and see which style suits you best, without having to invest any money. Once you find the app you like best, you can check out their option to upgrade to 'full' versions that will give you even more resources.
Check out the web or app store and you will find the more well-known providers such as BUSUU, Duolingo and Babbel, and also a range of others, including ABC Spanish and Memrise.
Make a pact with yourself to add this to your daily routine, even if it is only 15-30 minutes a day on your way to work, you will absorb so much in a short space of time, and the more you do it, the more it will become a positive habit that maximises your screen time, instead of wasting it.
Go to local 'Intercambio' or ´language exchange´ nights
In addition to the more formal learning techniques of classes and language apps, I would say that one of the best tips for learning English that I was given when I arrived in Spain was to look for ´language exchange´ or Intercambio nights in your city or town.
These are usually weekly events, that are hosted in local bars or community hubs, which offer you the chance to meet people in a relaxed setting, and have conversations in different languages. The idea is that you will meet Spanish people who want to improve their English, who you can chat to in your native language for a while and then you swap, and have a conversation in Spanish.
This not only gives you access to practice in person, but also helps you become involved in the local community, and the added bonus is that everyone who is there is there for the same reason, so you don't have to worry about approaching them to spark up a conversation.
As with looking for an academy, a good starting point is Google maps, searching for Intercambio de idiomas, or have a look online and search for language exchanges and also community groups for expats. These expat groups, often on Facebook, are a great way to ask people for recommendations of places you can go for this kind of thing, as there will be many people with years of experience living, and will know about the best places to go.
Make friends with Spanish speakers
It is easy to get stuck in the comfort zone of socialising with other expats who speak English, but there are many Spanish people who have a great level of English too, which can help you break the ice, and break into new relationships and social groups. Once involved in a group, even if your Spanish is limited you will be able to converse a little, and bit by bit as your vocabulary increases you will be able to have longer conversations. In addition, you also benefit from hearing people speaking in normal situations and you will overhear key words and phrases repeatedly, that you will absorb and be able to use in the future.
In the same way, becoming a regular at a local bar, will help your Spanish skills too, as you will hear key phrases and ways to ask for things and give your order, and the repetition of these phrases will get stuck in your brain and you will be able to use them confidently in future interactions.
Although putting yourself out there socially to speak in a second language can seem scary, it really will help your Spanish advance and give you increased confidence as time goes by. Just remember, you are showing the local people that you are trying to learn, and embracing their culture, and this goes a long way in being welcomed into the area.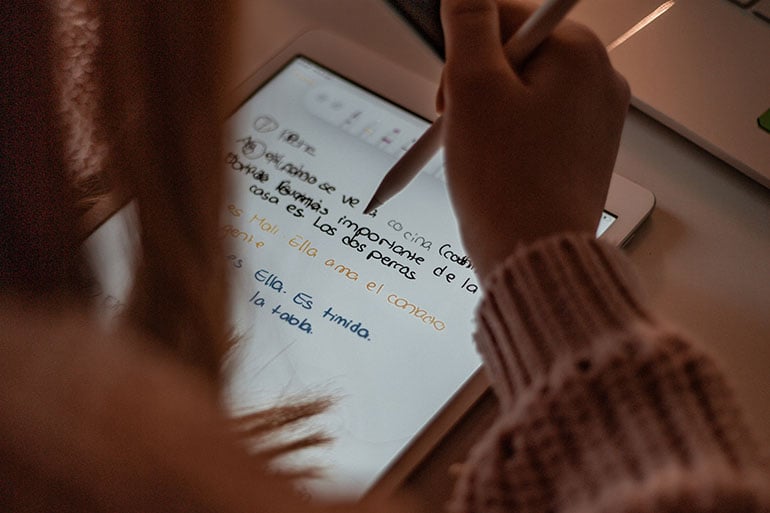 Watch TV and listen to music
Another suggestion that helped me build my vocabulary, and my listening skills was watching TV and listening to Spanish music. For example, even watching a TV show in English, but having subtitles in Spanish will help your recognition of key words and phrases. You can also write down key words and use translation or dictionary apps so that you can develop your understanding of these words, and also see alternative uses and sentences.
In terms of music, I have also found that listening to Spanish music, and downloading the Spanish lyrics has really boosted my listening skills, and my appreciation of music too. You can look at the lyrics and try to translate them into English to get a better understanding of the songs, and also you can use them to sing along, and learning a Spanish by song by heart is really good as the repetition helps you absorb the vocabulary. As a starting point look at well-known songs like "La Bamba", "Besame Mucho" and "No Puedo Vivir Sin Ti" – and ask your Spanish colleagues and friends for recommendations too!
Last but not least….
The tips for learning Spanish above were focused on key places and resources to increase your exposure to Spanish speaking, in a formal and informal way. However, my last piece of advice is more about you!
Don't fall into the trap of defaulting to English, give it a try in Spanish first….

The more you try the more you will succeed and you will be on the upward spiral in terms of confidence, instead of the downward spiral of shame or self-doubt. Even if you have to resort to using a mix of speaking and mime, or checking words using online translator apps to get the full message across, don't give yourself a hard time. Remember, millions of other people in the world will never learn a second language, so you have something up on them.
Every interaction, no matter how small is a triumph –

whether it's saying "Buenos dias" to your neighbours every morning, ordering "una caña" in a bar, or buying clothes in a shop, every time you interact and use Spanish to get what you want, see it as a win, a triumph, and add it to your positivity bank. Of course, there will be more difficult situations such as obtaining official documents, where you might feel you need a friend with a good level to help you, but each step takes you closer to your goal, and each interaction will teach you a new phrase or word that you can keep in your vocabulary bank for another day!
Don´t overwhelm yourself with trying to be perfect –

learning all the verb conjugations (based on who is speaking, and what tense) is one of the hardest things about Spanish as a Latin based language. I suggest that you focus on the key verbs that you use often in everyday life, such as be, make/do, want, need, like, eat, buy, pay, etc. – and then focus on being confident in using the "I" and "you" forms of the verb in the basic present tense to start with. You can add the tense by using phrases like, last year or last week (el año pasado/la semana pasada) or the next week (la proxima semana) and people will understand you even if you don't say the sentence perfectly. Once you have mastered using these verbs in the more common "I" and "you", you can then learn them in the different tenses for the past or future, and add in the other forms such as he/she and we, as you build your confidence. The key is to be able to communicate and build your repertoire gradually instead of trying to learn too much, and then getting stuck or giving up on the conversation completely.
Don't let lack of confidence drag you down ….

It is common to feel self-conscious and become a wall flower, or to let others who have a higher level take over the conversation for you, but remember, even if you don't speak perfectly, and you speak in broken Spanish, or use the wrong verb tenses, you will be generally understood most of the time. And the people you are communicating with will appreciate your efforts, and have respect for that – the key thing is don´t be too shy to try!