Cars and their owners have a very personal relationship. We name them (Pedro the Polo, The Red Special, Betsy and Taz spring to mind from memory), and whether for emotional attachment or practicality, taking your wheels with you when you move to Spain is pretty common. Here is my guide to registering a UK car in Spain.
Practical and economical considerations
Before starting this process, you might want to consider a couple of points, which have both practical and economic implications:
While driving a right-hand drive car in Spain is not a problem in terms of legality, it does take a bit of getting used to. That is because instead of the driver being positioned nearer the centre of the road as you would be in the UK, you will be on the other side of your lane. Your nearside and offside have been reversed. Therefore, oncoming traffic will be on your passenger's side, as will roundabouts, payment units at tolls, car park exits etc.
Insurers may decide you have more chance of having an accident, and to be honest, they have a point considering the differences I have just detailed. That might make your insurance premium a little more expensive.
Another economic consideration is this: while it may seem that bringing your car will be cheaper than buying a new car - you will need to pay a one-time registration tax in Spain. This will depend on your car's value, and, could be around 15% of the book price. So – the more valuable the car – the higher the registration tax.
Conversely, the older your car, the more likely it is to have poorer emissions, and therefore the road tax will be higher. This also affects parking costs all over Spain, so do your sums before you come. There are lots of great websites with info in English, as well as social media platforms full of people who have had similar experiences. You can even get quotes on what the likes of an insurance policy might cost you before you get started. Check out the links below.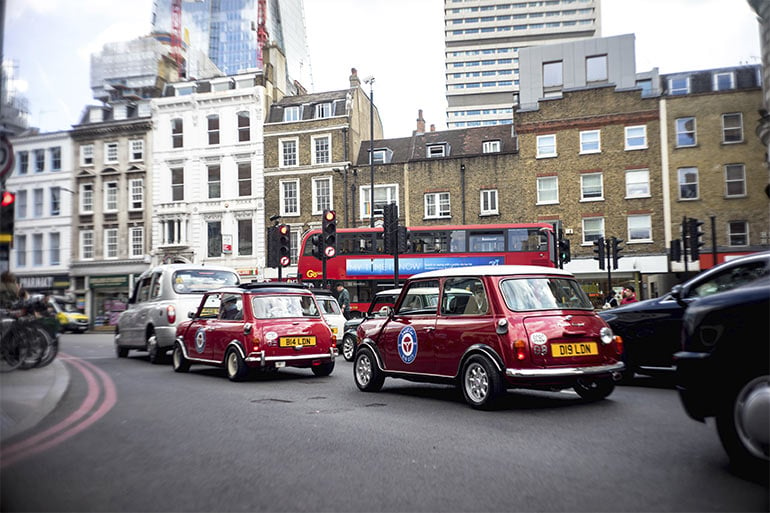 The legal requirements. Do I need to register my car in Spain?
If you are a resident in Spain, you should register your vehicle immediately and must do so withing 30 days of the car arriving there. Otherwise, you can have your UK car in Spain for up to 6 months but be aware most insurance UK-based companies will not cover your car for being abroad for so long. Being uninsured in Spain is of course illegal and will lead to heavy fines. Do however check with your insurer, as terms and conditions will vary from company to company.
Getting started
The first thing you will need to do is notify the DVLA you are taking your car abroad. Complete the 'permanent export' section of your vehicle logbook (V5C). Send this to Swansea. You need to get a vehicle logbook (V5C) before you leave the UK.
If you don't have a logbook for your car, or the 'permanent export' section is missing, don't worry. You can apply for a new V5C (logbook) from the DVLA, but it cannot send a vehicle logbook to an address outside the UK, so you should look into that as early as possible in your change-over process. The V5C document will be required in Spain too, so you will need to have it.
For further details on this step, including if you are starting the process from outside the UK for a car you have already taken abroad, check out the Gov.uk website.
Be sure to check the above link if you have a personalized registration. If you don't follow that step you will lose your right to that registration number.
We're off to sunny Spain!
Next, you'll need to register your car in Spain. As with many bureaucratic processes in Spain using a gestor is highly advisable. A gestor is a legal adviser who may or may not be a lawyer. They interact between clients and government institutions. If you have gone through red tape in Spain before you will know that it can be a daunting, frustrating and time-consuming process. It's not just a language thing, as many determined ex-pats often assume. It is about knowing how to navigate the system, and gestors can do that for you at a reasonable price.
The gestor will require you to give them the following documents to get started:
Your passport
Your NIE or TIE, the national ID document
Your padrón, the document which states where you officially live.
The V5C logbook and registration certificate from the UK.
You will need to get a certificate called a Ficha técnica reducida (vehicle technical inspection sheet). This document confirms that the technical specifications of your vehicle conform to the requirements in Spain. The gestor should arrange for an engineer to carry out an inspection checking points such as:
The chassis number and engine number match.
Tyres and wheels are the right size and speed rating specified by the manufacturer.
You have the correct type of fog lamps and you can vary headlight beams.
The cost of this document varies hugely depending on the service provider and the type of vehicle, but a ballpark starting figure is from around 100€ plus VAT (IVA in Spain). However, the indirect cost of getting this may vary considerably depending on what modifications which need to be made before the certificate is granted.
Checking your vehicle is road-worthy
After getting the Ficha técnica reducida your gestor will advise you which other documents you will need to obtain to register your vehicle and drive it legally in Spain.
The Spanish equivalent to the MOT certificate is called the ITV. This checks the roadworthiness and safety of your vehicle and is valid for a year. The costs vary by region, but official prices in Madrid for example range from about 40€ - 60€. You'll need to pay for any work needing done at this stage of course.
Registration, taxes and getting your new licence plates
When your vehicle has passed the ITV test you will need to return to your gestor. With their help, you will be required to:
Pay registration tax. This must be paid to the municipality at the time of registering a vehicle. The cost of this tax will be based on the vehicle's CO2 emissions. As I recommended at the start of the article, check this out before starting the process of registering a UK car in Spain.
Pay annual road tax: IVTM, based on the engine size of the vehicle (Impuesto Sobre Vehículos de Tracción Mecánica)
Register your vehicle with the DGT (Spanish version of the DVLA) and obtain your new licence plates.
Check with your gestor for other administration fees you might need to pay, as these vary from region to region.

Insuring your car
So now, you can get your vehicle insured. Caser Insurance offer excellent Basic Third-Party insurance, Extended Third-Party and Comprehensive insurance. Check out Insurance for cars – Caser Expat for more information and to get a competitive quote.
The final step
With everything in place, you and your gestor will complete the registration with the DGT. You will be given your new licence plates for your car. When you have fitted those new plates to the car the process is officially complete. Congratulations!
Welcome to España by road
Driving in Spain is a pleasure. Discover the country in the comfort of your own car and with the peace of mind to know that you have all the paperwork done properly for your trusty steed.
If you are searching for car insurance in Spain, Caser Expat Insurance has the right policy for you!