It's safe to say that winter tends to drag each year, perhaps because we are constantly yearning for the beautiful sunny days of summer, and dreaming of the crystal clear waters of our paradisiacal beaches across the length and breadth of the country. Although countless tourists from far and wide flock to Spain primarily for its warm subtropical climate in summer months, it's hard to deny that the coldest season of the year comes with its fair share of benefits. With noticeably fewer tourists and cooler temperatures (although still hotter than the majority of Europe), winter in Spain is becoming increasingly popular as a go-to offseason holiday destination. And the cherry on the cake is the wide range of ski stations on offer in the stunning mountain ranges across the country where you can practise your skiing skills.

Here are our top 5 ski stations you can visit this winter. Get your equipment ready and have fun!
1. Puerto de Navacerrada
Around 60 kilometres to the northwest side of Madrid, you will find one of the first ski stations in Spain, Puerto de Navacerrada, which is a firm favourite among flocks of Madrilenians. Located in Guadarrama and reaching 1,858 metres of altitude, the resort is divided into two different areas: the high altitude area with medium-high level slopes; and the low altitude area where mid-level enthusiasts and novices alike can take to the slopes. There are 9 ski stations in total that are open to the public and it's one of the perfect spots to escape the hustle and bustle of the cities of Madrid and Segovia and enjoy a fun day with your family and friends.

For opening hours, tickets and general information, check out the official website here.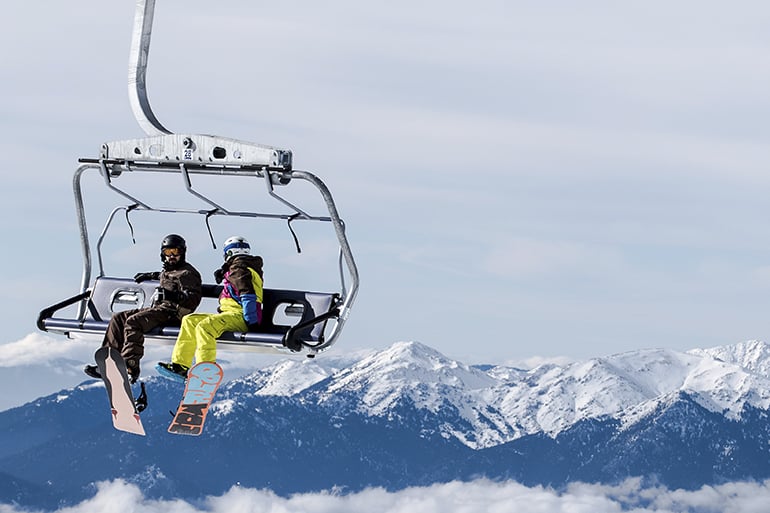 2. Aramón Formigal-Panticosa
Near the beautiful town of Huesca, nestled in the Aragonese Pyrenees in the Valle de Tena you will find one of the most visited skiing spots of the whole country. Spain's largest ski station offers access to slopes in 4 valleys, the Tres Hombres (crests), Sarrios, Anayet and Portalet. Each one can be accessed by car or public buses. Panticosa is located in an area of unparalleled scenic beauty, surrounded by the most beautiful mountains. It has a mild climate, a spa, and together with the family atmosphere that sweeps the whole town, from the resort to the hotels, it has become the ideal destination for an unforgettable holiday. The resort is characterised by the care, preparation and upkeep of the pistes. It has a complete installation that manufactures artificial snow, ensuring 16 km of snow cover in the most important points of the resort, which means that skiing is viable even when there is scarce snowfall.

For opening hours, tickets and general information, check out the official website here.

3. La Masella
The Masella ski resort, like its neighbouring resort La Molina, is located in the north of Catalonia, in the Cerdanya region, about two hours by car from Barcelona and from Girona-Costa Brava airport. It also offers a pass for skiing in La Molina which, together with Masella, forms the 135-km ski area Alp2500, named after the municipality where the two resorts are located. Most of its slopes are north-facing and a thick forest covers most of the ski station, so there is usually good quality snow that offers a perfect surface for skiing. La Masella is one of the few resorts that offers night skiing every Thursday, Saturday and on public holidays and with its extensive network of lights, the 13 main pistes with a total vertical drop of 420 m are well illuminated, offering a magical night time landscape for ski enthusiasts.

For opening hours, tickets and general information, check out the official website here.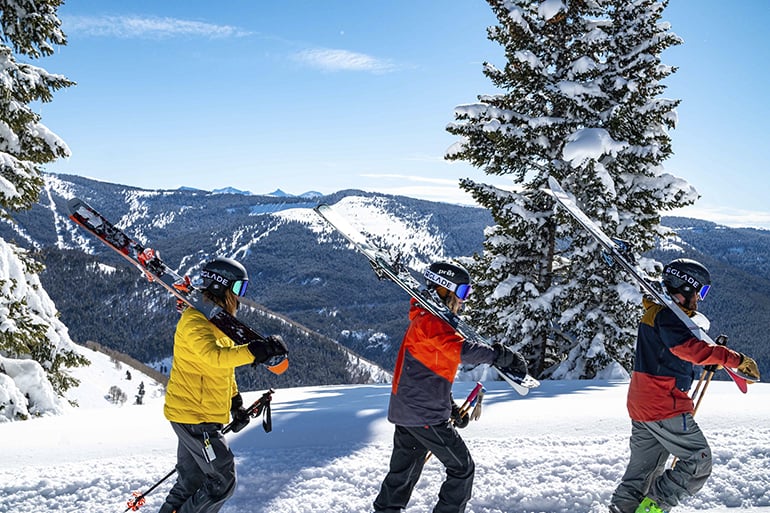 4. Astún
Let's head back to Aragon. The Astún ski station is located in the Aragonese Pyrenees, specifically in the Canfranc Valley, near the France-Spain border, and just 33 kilometres from Jaca. The name comes from the word Ibón, which means little glacial lakes that are nestled in the mountains. It sees high snowfall each year, creating a thick layer that's perfect for skiing, and its privileged orientation makes sure it is sheltered from strong wind currents, both in winter and summer months. The resort was first opened in December 1976 and has been expanding in terms of skiing facilities and slopes ever since. It offers more than 50 km of skiable slopes and a vast range of freeride runs, including Pinos, one of the most well-known in Spain. Its highest peak is La Raca, at an altitude of 2,300 metres and a drop of 650 metres. A residential area has been built around the ski station to cater for enthusiasts with a hotel, restaurants, shops, and equipment hire, and it is also relatively family-oriented, with several services aimed specifically at children, including the Snow Garden.

For opening hours, tickets and general information, check out the official website here.


5. Sierra Nevada
Let's head to the south of Spain for a change of scenery. Just a half an hour away from the city of Granada in Andalusia lies the Sierra Nevada ski station: a true haven for skiers and snowboarders. With over 100 km of skiable slopes with a thick layer of snow and bright sunshine all year round, this resort is the number one ski destination in the south of Spain. It is divided into 6 areas: Veleta, Laguna de las Yeguas, Borreguiles, Loma Dílar, Parador, and Río, offering 118 pistes in total, with the highest peak reaching 3,300 metres. The Parque de Nieve Sulayr is also well serviced for winter sports enthusiasts, boasting slopes for snowboarders and freestyle skiers, as well as equipment rental.

For opening hours, tickets and general information, check out the official website here.


Although Spain is famed for its vast coastline, long hours of sunshine and stunning beaches, as we've just seen, it is also a top destination for ski lovers. In fact, Madrid alone boasts a range of ski resorts and winter activities that you can check out in this post. And although these are our top 5 picks, don't forget that there is a wide variety of ski stations that are open to the public across the country, making Spain one of the most varied countries worldwide…but then again, we already knew that, hence why we chose it as our new expat home. Happy skiing and stay safe!